Editorial: Color versus Conscience
Thursday, October 8th, 2015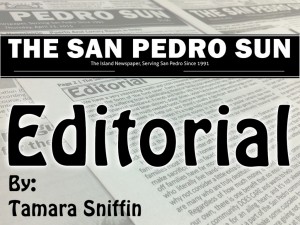 Now that the election season is upon us we should all take the time to consider our choices. What about trying something different? Instead of voting for a party because your family has bled that color for generations, why not do a little soul searching and weigh what is important to you in a candidate. No one needs to know that you voted your conscience (not your color) on Election Day! Regardless of the party – and none are above questionable actions – does this candidate have your best interests at heart and can you trust him to make the right decisions? Will he keep his promises?
Often the success of a candidate, especially an incumbent, is based on their accomplishments. What we sometimes forget to do is separate what is a good job and what goes beyond that. There are responsibilities that politicians are tasked with, and it should be expected that they fulfil those responsibilities, instead of just being happy that they actually did something. It's like when an employee does what they are paid to do, that is expected; but it is when they go above and beyond the call of duty that they deserve the raise, or the vote of confidence. When comparing candidates, ask yourself, who is working harder? Who is keeping his promises? Is he listening to the people? Is he doing a GOOD job? Often we are just apathetically happy when an official does anything…and sometimes we give them more credit than they deserve when in reality they are just doing their job.
During election time, gift-giving from candidates is rampant. Why do they do this? Are they trying to persuade you to vote for them? Shouldn't their record of community service and success be enough to earn your vote? How does a holiday ham and $100 today better your life tomorrow? Will this gift provide you proper, affordable health care? Will this gift assure an adequate education for your children, and will you be able to afford the tuition? Will this gift fill the puddle in front of your yard that you must wade through up to your ankles months out of the year? Will this gift quiet the mechanic shop or lumber yard that popped up next to your home last year? Will this gift bring proper lighting and sewage to your neighborhood? Will this gift make your community safer? Will this gift build a community hospital? Will this gift mean that the politician will keep his promise of transparency and accountability? Will this gift guarantee he will remember who you are and always consider your concerns before making decisions that affect you, your community and your country?
From local government to central government, concerns voiced by the people often fall on deaf ears. NO we don't want to rip out the embarcadero on the lagoon side of San Pedro and build a multi-million dollar Sunset Boardwalk. YES we desperately need a community hospital. NO we don't need more vehicles on the island. YES we want a Master Plan for our community. NO we don't want to alienate our tourists with traffic and trash. The list goes on and on…sometimes the less they listen, the more they act without consideration of what we want. When does their agenda leave ours on the wayside? How does your candidate measure up when you consider this? Is your voice being heard? Have you been a part of the decision-making process when your fate is determined by the powers that be? Do we want four and five story buildings on the island? Do we want an International Airport? What about human services and infrastructure? Did anyone ask us before making these decisions?
Responsible growth and development for Belize is essential, but at what price? Does anyone really know how in debt our country is and how much this will ultimately cost us and our children in the future? Were we, the people, ever involved in this decision making? On the contrary, it wasn't long ago when our government gave the Prime Minister "blank-check" privileges when it comes to spending. No need for approval from anyone…did anyone ask if you thought that was a good idea?
Regardless of what party is governing our municipalities or our country, as the people of Belize we need to watch, look and listen to what decisions our leaders are making for us. At election time think about how the quality of your life has been over the years and what you hope it to be in the future. Does your candidate share the same vision? Will your candidate keep his promises? Will your candidate walk arm-in-arm with his people? Ask yourself, does he really care about you, or just your vote?
Follow The San Pedro Sun News on Twitter, become a fan on Facebook. Stay updated via RSS