Second Garifuna Catholic Bishop Ordained in Belize
Thursday, May 18th, 2017
The Belize's second Garifuna Catholic Bishop of the Belize Diocese, the Most Reverend Lawrence Sydney Nicasio, was ordained Bishop in a concelebrated mass at the St. John's College gym in Belize City on last Saturday morning.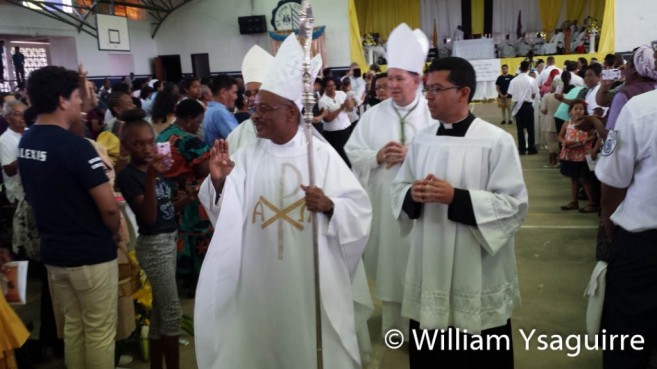 The gym was packed to capacity with Catholic faithful from throughout the country, to witness as the Papal Nuncio to El Salvador, Archbishop Most Rev. Leon Kalenga, led the concelebrated mass along with Most Rev. Christopher Glancy, the Auxiliary Bishop of Belize City and Belmopan, and five other Bishops from the Caribbean and New Orleans, Louisiana USA.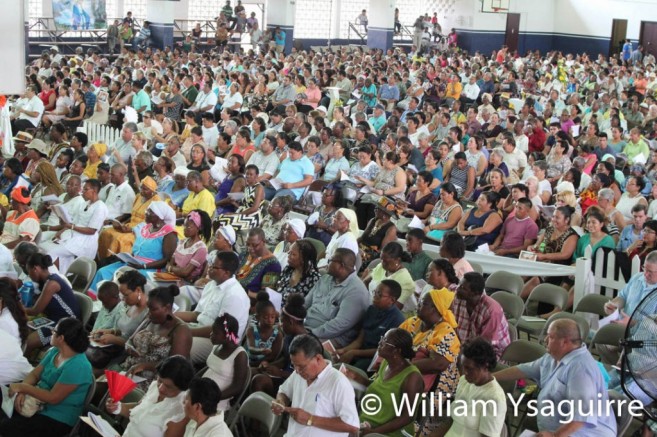 With a large contingency present from Nicasio's hometown of Dangriga, Nicasio's has taught at both Sacred Heart Primary School and Holy Ghost Primary Schools. The Sugar City contingent was only slightly less, as Nicasio had served first as Associate pastor and then as the Pastor of La Inmaculada parish in Orange Walk Town for 13 years.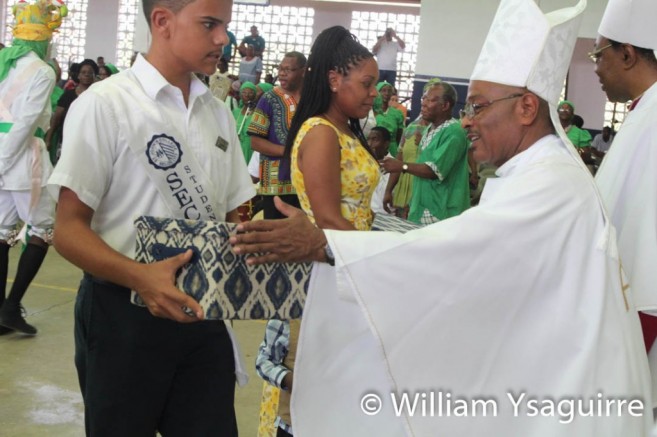 and Opposition Leader Hon. John Briceno and Dangriga area representative, Minister Hon. Frank "Pawpa" Mena, were among the honoured guests in the audience. Charge de Affaires Adrienne Kalanek of the United States Embassy in Belmopan and Belize Ambassador to the Holy See, Mr. Harry Lawrence were also present.

It seemed almost a re-enactment of Garifuna Settlement Day; as the Garifuna women's choir, the Belize Choral Society and Spanish Choir led the congregation in singing hymns in Garifuna, English and Spanish. Garifuna drummers led the offertory procession, which included a number of traditional Garifuna foods, as well as a "ruguma", a woven straw tubular strainer used to squeeze out the liquids from ground cassava before making cassava bread.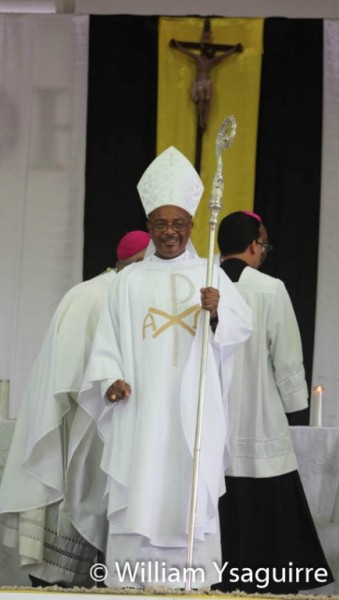 Bishiop Nicasio chose the "ruguma' as part of his shield, since as a child he often sat on a log, which tightened the ruguma in his mother's kitchen. He chose as his motto: "Sollicitum ambulare cum Deo" – "Walking humbly with God".
Arch Bishop Kalenga presented Bishop Nicasio with the ring, miter and pastoral staff of his office during the ordination rite. Nicasio then descended from the stage to walk among the congregation, greeting all, before addressing the congregation from the pulpit. "Good things come to those who wait" he avowed as he hailed his former University classmate, and other bishops who had received him on visits to other parts of the Caribbean.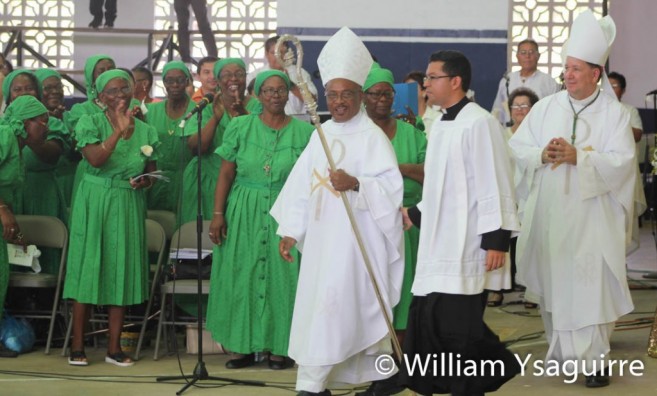 He gave Holy Communion and received pledges of obedience from all the priests and other bishops of his diocese before the close of the three-hour long ceremony.
Nicasio was appointed Bishop of Belize on January 26th of this year, after Bishop Monsignor Dorick Wright's resigned from office due to poor health and failing eyesight. Bishop Wright was present, albeit in a wheelchair, and he gave Bishop Nicasio his blessing.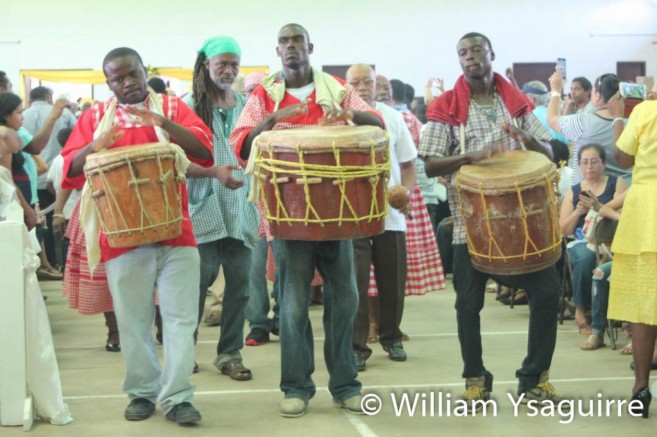 Bishop Nicasio was born in Dangriga on September 5, 1956, the second son of six siblings born to Ruben and Juana Lewis Nicasio: Nelson, Herbert, Nicholas, Agnes and Marcella. He attended Augustine High School in Dangriga and later attended the Belize Teachers College in Belize City, where he received his teachers' diploma.
He received his Bachelor of Arts degree in Philosophy from the Cardinal Glennon Seminary in St. Louis, Missouri, USA and his Masters in Divinity from the Kenrick Theological Seminary in St. Louis. He had also served as Principal of the San Francisco Geronimo R.C. school in Toledo and was ordained a Deacon in 1988 and was ordained to the priesthood on June 16, 1989. He first served as Associate Pastor of the Our Lady of Guadalupe parish in Belmopan; as well as Pastor at the St. John Vianney and St. Ignatius parishes in Belize City.
Follow The San Pedro Sun News on Twitter, become a fan on Facebook. Stay updated via RSS