SPHS Boys place 2nd in National Volleyball Tournament
Thursday, November 11th, 2010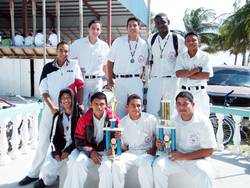 On Friday, November 5th, the San Pedro High School male and female volleyball teams travelled to Corozal to compete in the National Tournament. They returned on Saturday, November 6th. While San Pedro High has produced champions in various sporting activities, volleyball has not been one of their strengths for quite a while. For the girls, this was the first Volleyball Nationals that they have competed in, after 10+ years; while the boys got their first ever taste of competition at the national level in the sport of Volleyball.
Both male and female teams won the regional, ranking number one from about 13 high schools in the North, giving them the opportunity to quality for the nationals where they competed against the southern, western and central regional champions.
According to principal, Emil Vasquez, he thought, "…the girls won the northern regional fairly easily, however, the nationals posed a challenge. Over all, I believe the girls did exceptional and will be able to maybe even bring home the championship [trophy] next year."
The girls competed against defending champions St. Catherine's Academy (SCA), but lost. Following this game, they had to play against Sacred Heart College (SHC) for third place. SHC had lost against Ecumenical on Friday. On Saturday morning, the girls lost against SHC, and ended up placing fourth.
The boys were definitely at the caliber needed to be national champions this year. At Nationals, they defeated Wesley College, the City Champs, for a chance to move onto the finals. Beating Wesley was an accomplishment in itself as that school had passed through all the high schools in the city. As expected, Wesley was a very strong team, but the San Pedro Boys Team was able to beat them.
For the finals, the San Pedro Boys were up against three time national champions, Toledo Community College which has dominated volleyball in the country for the past 3 years. This team had also had the opportunity to represent Belize on an international level. In the end, the boys lost by a couple of points, bringing home the second place trophy and medals for each member of the team.
In an interview with Ms. Gaba Nunez, captain of the female team stated; "It was a real challenge. Some of the teams had players that have been competing at a national level for three years, and spend most of the year practicing. This, being our first year reaching the nationals, I feel that my team performed exceptional and though I will not be competing next year, I am confident that the remainder of the team will be more than prepared for next year's competition and will be able to come out champions." The San Pedro Sun congratulates both teams on performing exceptionally and giving San Pedro High School an awesome representation nationally.
Follow The San Pedro Sun News on Twitter, become a fan on Facebook. Stay updated via RSS