San Pedro Volleyball Association holds Mini Volleyball Tournament
Friday, September 9th, 2011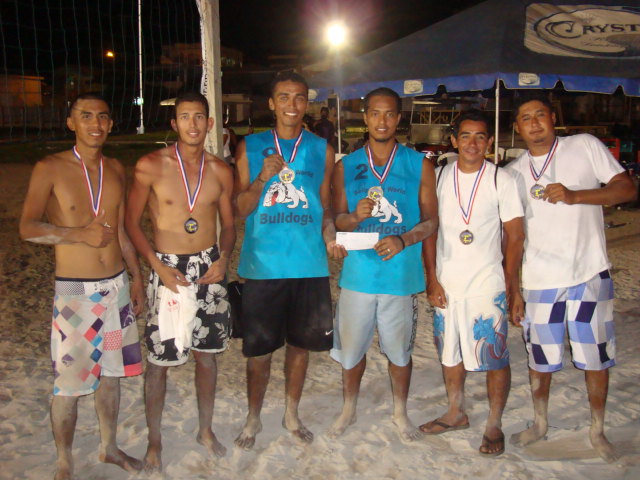 The San Pedro Volleyball Association and the San Pedro Volleyball Team, made up of Jason Cabral and Gustavo Morataya, invited volleyball teams from across the country for a mini volleyball tournament on Sunday September 4th. The games commenced around 10:30am and saw the participation of eight teams.
A total of eight teams participated, three teams were from neighboring Caye Caulker, one was made up of players from Orange Walk and San Pedro, and the other four teams were made up of local men from the island.
At the end of the competition, San Pedro's Jason and Gustavo dominated the tournament, garnering first place, followed by Juan Marin and Ronnie Sosa from Caye Caulker, who managed to take second place. Armando Escalon Jr. and Ernest from San Pedro finished out the top three.
First place winners took home a $400 cash prize and medals; second place took home a $200 cash prize and medals, while third place won a case of Belikin beer and medals. The organizers of the mini tournament take this opportunity to extend special acknowledgement for assistance from the Belmopan Volleyball Association as well as the Orange Walk Association, who were responsible for providing most of the necessary equipment as well as providing the two referees, Mr. Alberto August and Mr. Martin.
The San Pedro Volleyball Association is an offspring from the Belize Volleyball Association. The association's members include Mr. Enrique Marin, Mr. Luis Cabral, Mr. Shelby Leiva, Mr. Gustavo Morataya and Mr. Jason Cabral. The association was formed with the objective to promote the sport of beach volleyball on the island, especially among the many talented young athletes. Further to this, Gustavo and Jason are preparing to compete internationally in Nicaragua from November 2nd to November 7th in the NORCECA (North Central American and Caribbean Confederation) Beach Volleyball Tournament.
The Association hopes to count on the support of the Ambergris Caye community in all future events, and especially in the preparation of the duo for NORCECA. The San Pedro Volleyball Team is looking for sponsorship for travelling expenses as well as equipment (jerseys, volley balls, etc.) for the upcoming games.
One fund raising event for the San Pedro Volleyball Association will be on September 10th at Wahoo Lounge, who is hosting a Chess Tournament starting at 2pm. Buy in is $20 from which $10 gets you a BBQ provided by the Association and goes towards the San Pedro Volley Ball Team. There will be lots of prizes for the Chess Tournament Winners as well. Individuals wishing to sponsor these two talented young men who have been making headlines across the country as they travel and compete are welcome to do so by contacting 660-5465 or 663-0915.
Follow The San Pedro Sun News on Twitter, become a fan on Facebook. Stay updated via RSS