Adrift for 6 months and 4,643 miles – Lydia Rose lands on Ambergris Caye beach
Thursday, August 30th, 2012
Fisheries Department employees, attached to the Bacalar Chico Marine Reserve on northern Ambergris Caye, found a British race craft vessel on the evening of Thursday August 23rd while patrolling north of the Rocky Point. At first the vessel was believed to be a submarine or even a submersible craft but after closer inspection it was found to be a British type race vessel. The Lydia Rose was initially believed to be a vessel used in the transshipment of drugs.
According to Lieutenant Commander of the Belize Coast Guard Elton Bennett, the Anti Drugs Unit of the Belize Police Department was called to inspect the craft and determine whether it was used for transporting drugs. "After inspection, it was determined that the racecraft could not be a drug vessel because of its size and small space. We are convinced of that," said Bennett. The Belize Coast Guard official told The San Pedro Sun that the fisheries officers took the craft to the Bacalar Chico Outpost after which they were notified. But where did the vessel come from and how did it end up in Belize?
Well it so happened that the water craft is one that was being used in the Ocean Pedal Challenge by a team which was attempting to pedal across the Atlantic with the aim to raise £50,000 and awareness for CHUF, the Children's Heart Unit at the Freeman Hospital, in Newcastle, UK. The Ocean Pedal Challenge was also an attempt to set a new world record.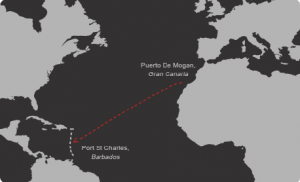 Speaking to The San Pedro Sun from UK, Kieran Sweeney explained that while on the challenge, they experienced difficulty due to weather and had to be rescued, leaving Lydia Rose to drift at sea. "We last had seen the vessel on the 10th of February 2012, 251 miles off the coast of Gran Canaria. That's when we got rescued. We were very surprised to find that it (Lydia Rose) would have made it all that way, 1,900 miles past our own intended target of Port St.Charles, Barbados." said a very happy Sweeney.
According to Sweeney, he and his friend Callum McDonald were attempting to traverse a distance of 2,994 miles from Grand Canaria (a collection of islands belonging to Spain) to Barbados. However, on day four of their challenge, they began experiencing bad weather conditions at sea and had to be rescued via helicopter. Sweeney explained, "We were trying to sit the storm out, pedalling to stay safe and dodging everything we could. Having no sleep and constantly getting hit time after time, rolled again and again in the sea. A decision was made after a few days by both Callum and me due to safety for our lives. We activated the boats EPIRB (emergency position-indicating radio beacons) which is received by Falmouth Coast Guard back in the UK." Falmouth then notified passing vessels and the Salvamento Maritimo (Spanish Sea Search and Rescue) to Kieran and Callum's distress.

Sweeney said that they have been in contact with the Belize Coast Guard and have correctly identified the vessel as theirs. When asked what they intend to do with the vessel Sweeney stated, "We are not entirely sure at this point as we are currently building a new boat to replace Lydia Rose. Obviously it has a lot of sentimental value not only to me for designing and building her, but to all the team at Ocean Pedal Challenge and the charity we were raising for."
The team is already building another vessel, one even more sophisticated than the original Lydia Rose, which they intend to use to make their challenge a reality. They expect to use the new vessel, equipped for three persons, while undertaking an even more ambitious challenge than the original. When asked if they would now consider Belize as a last stop for their challenge, especially since their first vessel chose to wash up on her shores, Sweeney was receptive. "Belize was never planned for, but it would make sense to ship both boats back at the same time. I have always been a great admirer of the Maya civilization and would love to see the sites for myself. But I really would like to see the Great Blue Hole with my own eyes. It would make a great challenge that we would love to undertake."
The group said that they became aware of the Lydia Rose's whereabouts following the publication of an online article The San Pedro Sun posted on www.sanpedrosun.com on Friday, August 24th. The Lydia Rose was said to be entirely self-sufficient with solar panels and water filtration systems. The vessel currently remains in the hands of the Belize Port Authority.
Follow The San Pedro Sun News on Twitter, become a fan on Facebook. Stay updated via RSS