Island athletes amongst Belize's delegation at the U-17 UNCAF Elimination Tournament
Tuesday, November 17th, 2015
From Wednesday, November 11th to Friday, November 13th, Belize National U-17 Female Football Team were in Comayagua, Honduras participating in the U-17 Women's World Cup Central American Football Union (UNCAF) Elimination Tournament. The tournament saw our young Belizean footballers competing against U-17 National teams from Honduras and Costa Rica in hopes of advancing to the 2016 Confederation of North, Central American and Caribbean Association Football (CONCACAF) Women's U-17 Championship. Even though Belize did not make the cut, they definitely displayed great skills and sportsmanship.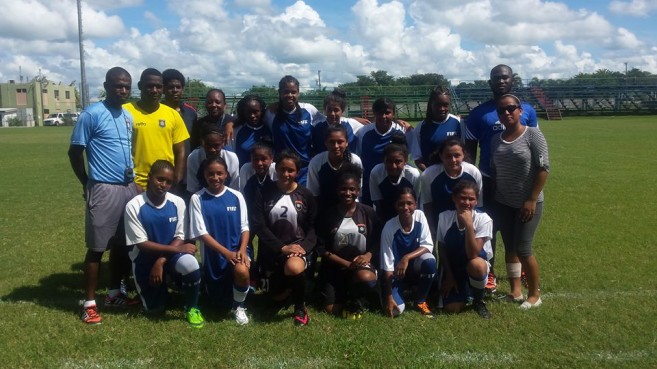 The Belize delegation was made up of Jayda Lynn Brown, Shandy Niesha Vernon, Alyssa Ruth Grant, Cesia Yulivetch Alvarado, Marcia Iris Ara, Vailene Rashawn Lambert, Gabriela Cowo, Shantel Brendaley Robinson, Deejah Jasmine Diaz, Kate Korell Jones, Ashley Janely Rodriguez, Jerlin Junely Salazar, Shari Simone Pandy, Reynai Abigail Robinson, Amber Ryannie, Blanca Nayeli Reyes, and San Pedro athletes, Lisandra Elizabeth Novelo and Ada Abigail Cordova. Also forming part of the Belize delegation were Phillip Marin – Head Coach, Norman Michael Koko – Assistant Coach, Lloyd Francis Nunez – Fitness Coach, Kent Gray – Goal Keeper Coach, Denys Belisle – Physiotherapist, Anthony Humes – Equipment Manager and Jacqueline Pelayo – Team Manager. While in Honduras, the Belize team played two matches at the Estadio Carlos Miranda. In their first match Belize lost against Honduras in a 9-1 point game. Their second match also ended in a 15-0 defeat against Costa Rica. With the two losses, Belize placed last in the group.
The UNCAF Elimination Tournament was divided into one group of four teams and one group of three teams. Group A saw National selections from Guatemala, El Salvador and Nicaragua competing between November 4th and 8th in a series of matches to determine a winner, while Group B saw national selection from Belize, Honduras, Costa Rica and Panama competing between November 11th and 15th. Panama withdrew from the tournament earlier in the year. Only the winners of each group advanced to the 2016 CONCAC Women's U-17 Championship, where there were three teams from North American Football Union (NAFU) (Canada, Mexico and United States of America who qualify automatically) and three teams from the Caribbean Football Union (CFU) (Grenada qualified automatically as hosts). At the end of the tournament, the two UNCAF berths went to Guatemala, winner of Group A, and Costa Rica, winner of Group B.
The San Pedro Sun congratulates all the Belizean athletes that both participated and represented the country at the tournament!
Follow The San Pedro Sun News on Twitter, become a fan on Facebook. Stay updated via RSS