Ambergris Caye to be represented at National Belikin Pool Tournament
Wednesday, August 17th, 2016
After winning the qualifying match in a local pool tournament on the island, Team "One Shot-One Kill,' will be representing Ambergris Caye at the National Belikin 8-Ball Pool Tournament. The event will be held on Saturday, August 20th and Sunday, August 21st in Orange Walk Town, and will have teams from all over the country competing for the national championship.

During the qualifying games held on Sunday, August 14th at Kama Lounge in Northern Ambergris Caye, several teams convened at the venue for a day of fun and competition. Shortly after 4PM, the tournament narrowed down to the top teams who had survived a full day of games.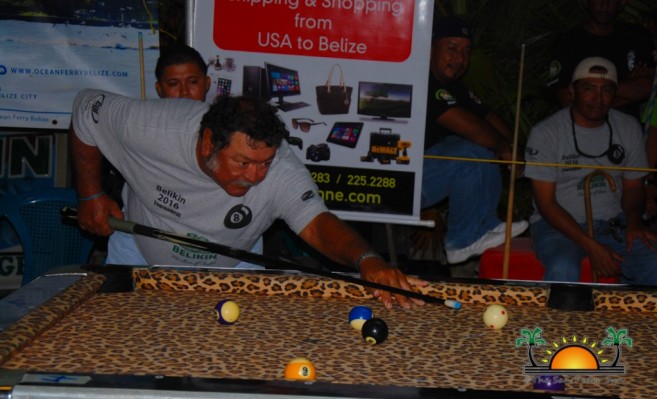 Team One Shot-One Kill, Team Amigos and Team Krush, were the favorites of the evening. Each team had seven players whose task was to win the best out of five games, and the team with the most wins would walk away with the victory. As the evening went by, Team Krush was soon left behind in third place, and Team Amigos, led by Jose Perez and Team One Shot-One Kill, coached by Talal Harmouch faced each other for the final match.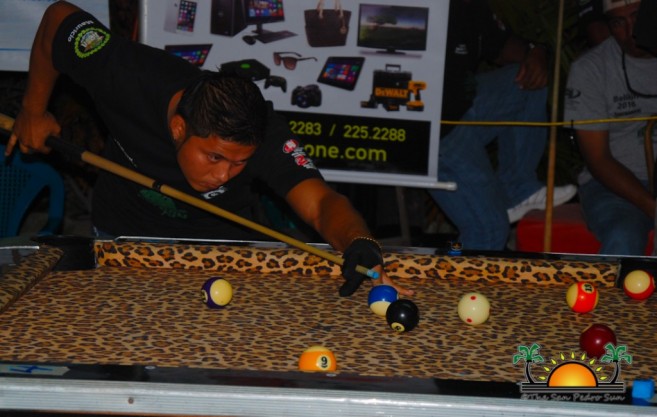 It was a tight game, making the match longer and more exciting for the fans who cheered on their favorite team. However, only one could claim the championship, and with a clean shot, by Nestor Villanueva, the 8-ball sinking in, giving One Shot-One Kill the win. Team Amigos had to settle for the second place.

Prizes were immediately issued for third, second and first place. Team Krush received $250 cash and round trip boat tickets to Belize City for all seven players, while Team Amigos received $450 and a trophy.
Team One Shot-One Kill was crowned the champions, and received ten cases of beer, a cash prize of $800, individual medals and a trophy. The MVP of the tournament went to Jose Perez from Team Amigos, who was awarded with a gift certificate from Caye Supplies.
Organizers would like to thank all sponsors who made the tournament possible: Ocean Ferry, E-zone Belize, CGI, Black Orchid Restaurant, Nour Golf Cart Rental, Caye Supplies, and V-Bar.
Follow The San Pedro Sun News on Twitter, become a fan on Facebook. Stay updated via RSS