Taxi Driver Injured in Accident
Wednesday, August 15th, 2012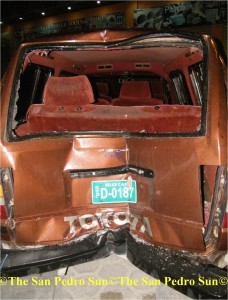 An early night accident on Wednesday, August 15th in the San Juan area has left one person injured. The San Pedro Sun was called to the San Juan Roundabout and upon arrival at the scene, observed a severely damaged taxi in the middle of the street, blocking all access.
According to bystanders, the taxicab bearing license plate SP D-0187 was on its way southbound when an individual across the street from Richie's Supermarket hailed for a ride. The taxi driver tried to make a three point turn and this was when the accident occurred.
Claudia Handal was at her nearby hot dog stand when the incident occurred. "He stopped and was going to pick up Luis Romero from the hardware store. He turned and drove up and had to reverse to be able to make the complete turn. He was coming very, very slowly and then all of a sudden, he just went "whoosh" – full speed back into the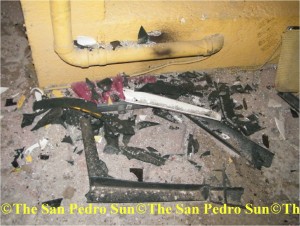 building!"
The taxi rear-ended into the southern corner of Richie's Supermarket, causing damage to the electricity meter and apparent minimal damage to the building itself. The entire back end of the taxi van appeared to be completely destroyed, with a huge V shaped dent.
According to Handal, she was the first to check on the driver who was not responsive. She described him as having something coming out of his mouth – "foaming". She further stated that he did regain consciousness however, and was taken to Dr. Daniel Gonzalez's Ambergris Hope Clinic nearby.
Police were on the scene and are still investigating as to what could have caused the incident.
Follow The San Pedro Sun News on Twitter, become a fan on Facebook. Stay updated via RSS