BTB appoints Javier Paredez as interim Director
Friday, September 30th, 2011
As printed in The San Pedro Sun this week, Seleni Matus officially tendered her resignation as Belize Tourism Board's Director. The following statement was issued by the Board of Directors for the Belize Tourism Board (BTB) and the Honorable Manual Heredia, Jr., Minister of Tourism, Civil Aviation & Culture, regarding the appointment of the BTB Interim Director of Tourism.
Belize City (September 30, 2011) - The Minister of Tourism, in collaboration with the Board of Directors, takes pleasure in announcing the appointment of Mr. Javier Paredez as Interim Director of Tourism.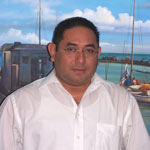 On September 23rd, the BTB Board of Directors accepted the formal resignation of the Director of Tourism, Seleni Matus. Ms. Matus stated that she was stepping down to pursue other professional endeavors.
Mr. Paredez has been serving the Board for the past four years. He was actually involved in the development of the 2010-2012 Action Plan. As the result of the induction of the Action Plan, he transitioned to the role of Director of Revenue Collections and Registrar of Hotels and Timeshare. In addition to his current duties, he will assume the full scope of responsibilities within the Directorate and will be accountable for the leadership and administration of the BTB. Mr. Paredez welcomes this opportunity to further serve the Board in this new role as the search for a permanent replacement evolves.
The BTB Board has established an executive committee to successfully guide the transition process and hiring of a new Director of Tourism. The Belize Tourism Board remains committed to ensuring the continued success of our tourism industry and thanks all stakeholders for their unwavering support.
Seleni Matus Resigns as BTB Director
The San Pedro Sun, Vol. 21, Issue # 38, September 30, 2011
On Friday September 23rd, the big news was that Seleni Matus resigned as (BTB) Belize Tourism Board's Director. Reports were that she tendered her resignation to the board of directors at about 1pm, had a meeting with her staff at about 3pm to notify them of her departure, and by 4pm, she had packed up and left.
In an interview with Channel 7, Ms Matus explained the reasons for her decision; "With any type of development you will always have that eye on anything that is working, so good things draw attention, and I believe in this case, there was a proposal to shift a significant portion of the architecture of the BTB into the Ministry of Tourism. I believe […] that the terms of engagement under which I was hired in have evolved and under the new scenario in which there definitely is a higher level of interest for the board to be more involved in the day to day of the organization and in which we have the ministry looking to perhaps expand its scope, possibly at the expense of the Belize Tourism Board, then that creates a perfect storm in which there is very little progress that can be sustained and much effort is spent in the politics of the scenario, in fending off the various elements that are really causing distraction and presenting a quite untenable environment in which to work. So there is a point in any process in which the team leader or the general manager, whomever it is, will really take a look and decide what is the probability of us sustaining results here versus the level of effort that it takes to really deliver those results? And in those cases, where clearly there is much more effort spent on rhetoric and politics, then there is much less space for delivering results. And in those cases, highly strung professionals who will more than likely opt out because there is a small probability for actually delivering the types of change, innovation at the pace needed to keep up what the international marketplace demands."
Follow The San Pedro Sun News on Twitter, become a fan on Facebook. Stay updated via RSS