Belize Says "Present" At Four Trade Shows In March
Tuesday, April 3rd, 2012
Belize City, Belize – April 3, 2012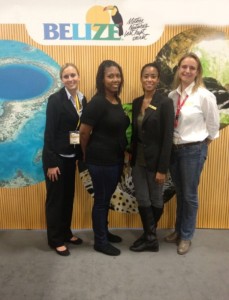 Belize continues to be in high demand at trade shows around the world, and the month of March was no different. The Travel Trade Team found their way to destinations in the US and Europe, participating in the 'New York Times Travel Show' New York, the 'Adventure in Travel Expo' Washington D.C., the 'Beneath the Sea Trade Show' New Jersey, and the 'International Tourism Bourse (ITB),' in Berlin, Germany. Our diligent delegates have successfully disseminated promotional and educational information and materials about our country to over 300,000 potential visitors.
Our Travel Trade Team's main priority is the establishment of partnerships within the international tourism industry especially with travel agents, tour operators, airlines, and cruise lines. "Attending trade shows gives us the perfect opportunity to showcase Belize, and market what our country has to offer as a premium tourism destination," said Michelle Bowers, BTB's Travel Trade Manager.
Every month, the Travel Trade Team attends roughly two shows in either North America or Europe that target our key audiences.  "The New York Times Travel Show" for example, featured over 500 exhibitors and attracted over 8,000 travel trade and 30,000 consumer attendees. As for the ITB Berlin show, it hosted more than 170,000 visitors from around the globe.
In April, Belize will be participating in Cruise3sixty from the 25-30th at the Boward County Convention Center in Fort Laurendale, Florida hosted by the Cruise Lines International Association (CLIA). The Travel Trade Team will also be helping to 'kick-off' the opening ceremonies at BETEX 2012 and will be manning a booth at the show's market place.  Additionally, they will lead the international media press trip for BETEX.
For more information on the BTB's participation in travel trade shows, please contact Michelle Bowers, BTB Travel Trade Manager at 227-2488 or 227-2420 or e-mail her at [email protected].
– – – – – – – – – – – – – – – – – – – – – – – – – – – – – – – – – – – – – – – – – – – – – – – – – – – – – – – – – – – – – – – – – – – – – – –
About the Belize Tourism Board
The Belize Tourism Board (BTB) is a statutory body within the Belize Ministry of Tourism, and it is governed by a Board of Directors appointed by the Minister of Tourism.  The BTB works in conjunction with members of the private sector – including the Belize Hotel Association, Belize Tourism Industry Association and Belize National Tour Operators Association – and is dedicated to building tourism in the most economically and environmentally sustainable manner.  As a part of its responsibilities, the BTB promotes Belize as a premier tourism destination to both in-country and international consumers.  Among its outreach to the international travel market, the BTB markets the country's unique attractions to travellers, members of the travel trade industry and media outlets in key markets.
The BTB is also dedicated to developing and implementing tourism programs that will help strengthen and grow the Belizean tourism industry; promote good destination stewardship; and instil high quality standards for accommodations and travel experiences.  For more information on the BTB and its services, visit www.travelbelize.org.
Follow The San Pedro Sun News on Twitter, become a fan on Facebook. Stay updated via RSS