Amanda Lindroth to put her magic touch at Mahogany Bay
Saturday, June 13th, 2015
Work at Mahogany Bay Village (MBV) has been steadily going forward, with expectations of the resort's grand opening coming in 2016. The development has an ambitious plan to provide private residences, a four-star hotel, beach club, bay, restaurant, bars, spa, business center and even a general store. With a clean, airy esthetic that invites the Caribbean breezes to breathe through white painted wooden walls, beautifully designed Belizean-made rustic furniture and high ceilings, MBV's design captures the timeless colonial feel of Belize back then. Now MBV designer Julia Starr Sanford is collaborating with Amanda Lindroth of Lindroth Designs to put the ultimate Caribbean touch on the 16,000 square-foot Great House.

Lindroth is synonymous with elegant, fabulous, chic…soothing, wonderful designs that bring to life the dreams of vacationers headed to the Caribbean. In an interview on location, she described how she takes the idea that vacationers have a dream: of looking amazing in their specially chosen resort wear; of sipping their favorite beverage at a beautiful poolside or beach; of relaxing and finally, crawling into a bed made with crisp sheets, surrounded by gorgeous furnishings and the little touches that make one truly slip into vacation mode. (Oh to dream!)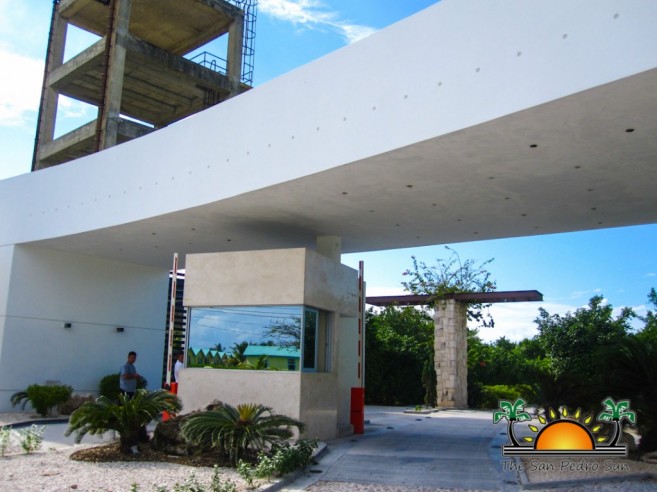 Amanda (and her gorgeous home in the Bahamas) has been featured in such classic magazines like House Beautiful, Coastal Living, and Martha Stewart. And now she'll be putting her magical touch on a building on Ambergris Caye. Lindroth is thrilled to be working with MBV, as the design of the buildings are just her type. "When I walked into the rooms I thought, 'why even put in furniture?!'" For inspiration, she's been culling ideas from one building in particular in Sri Lanka: The Amangalla. Taking the theme of Tropical Elegance, with Belize's Colonial past in mind – the Great House is bound to be stunning.
Lindroth will be working closely with Julia Starr Sanford to ensure that the space is welcoming and a true example of the history and beauty of Belize. We certainly look forward to the finished product!
Mahogany Bay Village is a 60-acre+ development located lagoon-side of south Ambergris Caye, lagoon-side. For more information on the development and its team, visit http://mahoganybayvillage.com/
Follow The San Pedro Sun News on Twitter, become a fan on Facebook. Stay updated via RSS