Reef Village renamed and under new management
Sunday, June 21st, 2015
PRESS RELEASE – BARRIER REEF RESORT – JUNE 12, 2015 – The resort formerly known as Reef Village is now BARRIER REEF RESORT. The home owners, through their HOA and Executive Committee, have over the past few years achieved control and management of the resort and have obtained the hotel license from the BTB. The new BARRIER REEF RESORT is no longer in any way associated with the former developer, Reef Village, Reef Village Estates Ltd. nor any of its associated enterprises. Touch Management operated by Gonzalo and Lacey Salinas are the new property and resort rental managers.
In the last couple of years many projects have been completed to improve the resort property. The electrical system has been upgraded to the highest standards with cooperation, assistance and oversight from BEL. The septic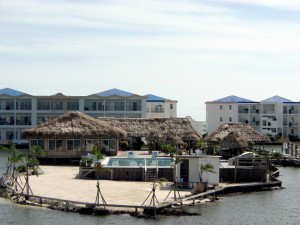 systems have been upgraded and expanded to meet current acceptable Health Department regulations. Security walls and gating have been added to assist the 24 hour on-site security team. Problems with flooding and standing water from heavy rains has been better controlled with proper drainage and retaining walls installed during the recent road paving project in collaboration with the SPTC and Mayor Guerrero . A comprehensive long term development plan is being developed to include extensive additional landscaping, construction of a playground for children, a dog park, picnic areas and green spaces. More importantly the long overdue painting of the complex is a first priority utilizing on a newly developed color scheme.
The HOA is planning to build a new pool-restaurant-bar complex within the grounds to open later this year. The non-functioning existing pool island's ownership is being resolved in the court system along with some other long standing issues.
BARRIER REEF RESORT, the HOME OWNERS through their HOA, along with TOUCH MANAGEMENT are committed to making the property a top rated resort and sought after travel destination here on Ambergris Caye. Our goal is for the San Pedro community, Town Council and BTB along with our neighbors, visitors and guests to view BARRIER REEF RESORT as a sought after travel destination and an asset to the island.
Follow The San Pedro Sun News on Twitter, become a fan on Facebook. Stay updated via RSS