Tropical Depression Eta continues to wreak havoc; Belize faces disastrous flooding
Thursday, November 5th, 2020
The effects of Hurricane Eta, now a tropical depression, have brought torrential rain to Belize and flood warnings for communities in the Belize, Cayo, Stann Creek, and Toledo Districts. While Ambergris Caye and Caye Caulker Village the effects have only seen flooded streets, in mainland Belize, people living nearby rivers and streams have been heavily impacted by the weather disturbance, which is expected to continue with rainfall through the weekend.
Eta slammed into Nicaragua's northern Caribbean coast on Tuesday, November 3rd as a Category 4 hurricane, with maximum winds of 140mph. The winds and rains battered homes and left at least two dead.
Its slow, five-mile-per-hour movement meant rains caused mudslides ahead of her arrival to Honduras, which has registered 13 fatalities. As Eta made her slow movement through these countries, her heavy rains caused devastating floods from Panama (eight missing) to Guatemala (35 dead). Its trajectory now has Eta emerging on the Caribbean coast and along Belize's waters as a Tropical Depression.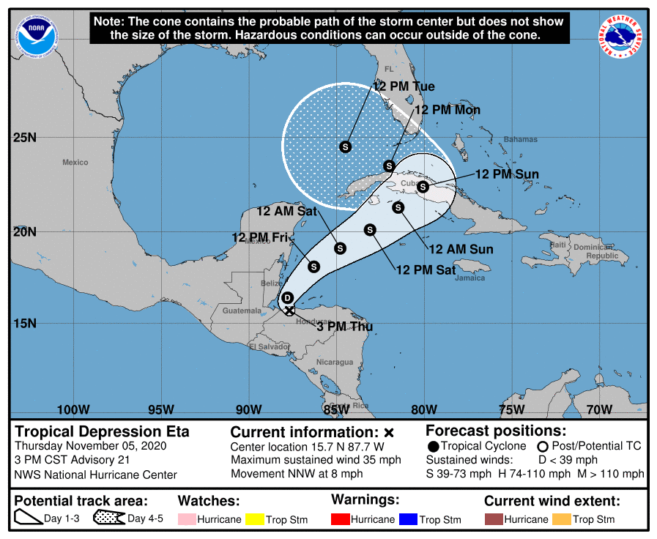 Since Eta's landfall, Belize has experienced constant rain, as images from areas in the Cayo and Stann Creek show how devastating the flooding has been. Most of the main reports are coming from the Cayo District, where the Macal River continues to rise to the point that businesses near the market area in San Ignacio Town were compelled to evacuate. In rural communities like Bullet Tree Falls Village, the flooding has covered the bridge connecting the community to Santa Familia Village. Other municipalities that have been affected by flooding include San Jose Succotz, Roaring Creek, and Calla Creek. Reports are that the Iguana Creek Bridge on the way to Spanish Lookout is entirely underwater.
In addition, jungle lodges in the Mountain Pine Ridge are also threatened by the raging waters of swollen rivers. As the rain continues, some of these businesses have taken further precautions to safeguard their properties and staff.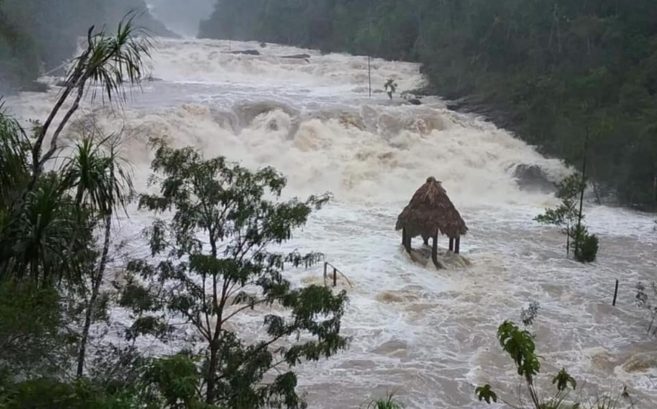 Farm owners in other areas of the Cayo District are also reporting losses in their plantations and cattle. A major concern is the Mollejon, Chalillo and Vaca Dams which could pose a danger to nearby communities if they overflow. According to unofficial reports, the dams are nearing their capacity.
Another district that has reported flooding is Stann Creek. Villages outside of Dangriga Town are reporting damages to the agricultural sector. Homes in Silk Grass Village have been inundated by the rushing water. Some of the banana plantations by the Toledo District have also experienced significant flooding, impeding the access for workers heading to the packing shades.
National Emergency Management Organization issues advisory
An advisory by the National Emergency Management Organization (NEMO) on Thursday, November 5th, stated that a flood warning continues for Central and Southern Belize. NEMO noted the dangers of more flooding in the Cayo, Belize, Stann Creek, and Toledo districts. The Mopan, Macal, and Belize Rivers are rising fast. Communities along the Macal, Mopan, and Belize Rivers are now notified that you must be on high alert and take action to save life and property. More communities will experience flooding there as an increase in water running off the mountains and hills. The Macal and Mopan rivers are at a major flood stage. NEMO advises all residents to relocate to higher grounds and, if they live along any of these rivers to take action to save lives.
On Ambergris Caye, NEMO continues on high alert. Its personnel patrol low lying areas on the island that could become vulnerable with an increase in rainfall. Tropical Depression Eta is forecast to move over the north-western Caribbean during the next 6-12 hours.
Follow The San Pedro Sun News on Twitter, become a fan on Facebook. Stay updated via RSS