ADVISORY NO. 7 Tropical Storm Earl approaching Belize
Tuesday, August 2nd, 2016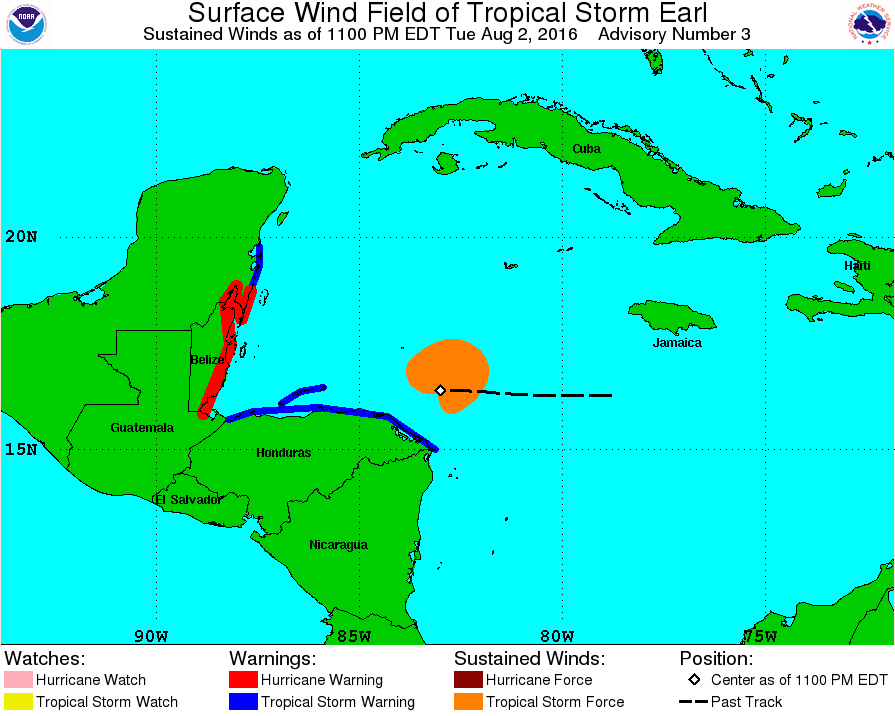 9:00 p.m. – NEMO is hereby upgrading the Tropical Storm Warning and Hurricane Watch to a Hurricane Warning for the entire coast of Belize, as Tropical Storm Earl is likely to intensify to Hurricane strength, just before making landfall. Weather conditions over the country is expected to deteriorate to hurricane conditions within the next twenty four (24) hours, meaning winds in excess of 70 mph will be affecting the country of Belize. Rainfall is estimated to be as high as 12 inches. Storm surge is likely to be 3-5ft.
Tropical Storm Earl maintains it westerly track moving 16 mph, it is probable that the track could change during the course of the next 6-12 hours. TS Earl was centered near Latitude 16.4°N, Longitude 83.0°W or approx 350 miles east of Belize City. Maximum sustained winds are near 60 mph with higher gusts.
All are advised to pay keen attention and take the necessary actions to save life. Shelters will be open from 8:00 a.m. tomorrow morning to receive people who want to seek shelter on the Cayes, , Belize City, Belize District, Dangriga and Punta Gorda.
First set of shelters that will open.
San Pedro:
1. New Horizon 7th Day Adventist School
2. San Pedro High School
3. San Pedro RC Primary
Caye Caulker:
1. Caye Caulker RC School
2. Garden City Primary School
3. Belmopan Comprehensive High School
Belize City:
1. St. John's Vianney
2. Unity Presbyterian Primary School
3. St. Luke Methodist Primary School
4. St. Martin De Porres Primary School
5. Pallotti High School
NEMO urges all to take actions in accordance with their plans. Do not listen to rumors! Listen to your local radio and television for further advisories from NEMO and the National Met Service.
A message from the NEMO Belize City Human Resource Management Coordinators
In view of the approaching Tropical Storm (Tropical Storm Earl), and in accordance with Section 209 (1) (2) of the Belize Public Service Regulations (Belize Constitution), the following Public Officers are to report to the Charles Bartlette Hyde Building at 6:00am in the morning (Wednesday, August 3rd, 2016)for deployment to their assigned Hurricane Shelters; 1) Giselle Almendarez 2) Esther Vaughan 3) Genecia Requena 4) Phylis Hamilton 5) Brian Ferguson 6) Deshawn Dawson 7) Earl Grinage 8) Shem Reyes 9) Sharlett Mclaery 10) Kimberely Trapp 11) Denisha McKoy 12)Roy Waite 13) Egbert Young 14) Maud Jacobs 15) Ryan Waite 16) Marlon Myers 17) Carla Bennett 18) Lisa Griffith 19) Darnel Lopez 20)Julet Peters 21) Brent Myvette 22) Linsey Beslie 23) Shermadine Dennison 24) Rachael Mejia 25) Keon Henry 26) Shadae Westby
For further information kindly contact 620 4141 or 605 9984
Follow The San Pedro Sun News on Twitter, become a fan on Facebook. Stay updated via RSS