Traffic accident leaves 1 seriously injured
Monday, December 19th, 2011
Police on Ambergris Caye are investigating an accident which occurred around 5PM at the corner of Pescador Drive and Ambergris Street and left one individual seriously injured. The injured person has been identified as Emmanuel Chi of a San Pedro Town Address. The accident involves a Yamaha YBR 125 with license plate SPM0446, driven at the time by 28 year old Mardoqueo Canto and a taxi van bearing the license plate D-0183, driven at the time by Jesus Wiltshire.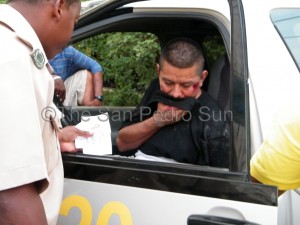 According to Canto, he and Chi were moving from a northerly to a southerly direction on Pescador Drive when a taxi came out of Ambergris Street and drove onto their lane. Wiltshire explained to The SP Sun that because of the lack of access due to the construction of the Town Clock, he had to reverse into Ambergris Street. He was making a right turn onto Pescador Drive when the cycle slammed into the left front part of the van. He stated that there was a golf cart about to cross the intersection which stopped to give him the right of way.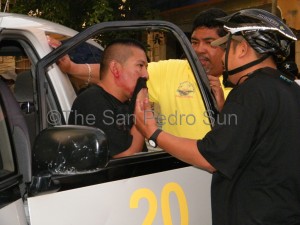 As a result of the impact Canto was flown off the cycle where he received minor laceration while Chi was trapped under the van and received more serious injuries. Chi was rushed to a private clinic for medical attention. Police have served both Canto and Wiltshire with a notice of intended prosecution pending investigation.
Follow The San Pedro Sun News on Twitter, become a fan on Facebook. Stay updated via RSS