Belize Red Cross appeals to help Haiti after Hurricane Matthew
Thursday, October 13th, 2016
During the first week of October, Belize was spared from the impact of Hurricane Matthew, a fierce category four hurricane that swept across the Caribbean and central Florida, USA. For countries like Haiti, Matthew did damage beyond repair, with an estimated two million people affected. The latest figures indicate that over 900 people in Haiti have lost their lives, and the Belize Red Cross (BRC) has expressed its solidarity, working around the clock to render aid to the victims.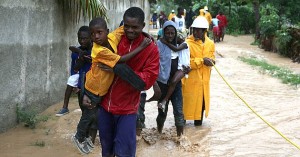 The BRC announced on Friday, October 7th that the International Federation of Red Cross and Red Crescent (IFRC) societies have launched an emergency appeal for $6.9 million to provide medical, shelter, water and sanitation assistance to 50,000 people ravaged by the storm in the southwest portion of Haiti.
According to the press release issued by the IFRC, Matthew's torrential rains and winds have flooded towns and roads, destroyed homes and buildings and collapsed the main bridge in the south, making the affected areas extremely difficult to reach.
Ines Brill, IFRC head of delegation in the Latin Caribbean, stated that because millions have been affected, hundreds of thousands are now in need of humanitarian assistance. "This vulnerable nation has been hit again by a huge disaster that requires substantial international support. Water and electricity have been cut and the medical services are not functioning anymore. Communication is very limited. We are extremely concerned for the safety, health and well-being of the women, men and children who have been impacted, particularly those in remote towns and villages," said Brill.
With funds being collected, the BRC hopes to help aid the victims of Haiti. BRC is kindly asking the public to donate to the response and recovery efforts in Haiti. If you wish to do so, you may make a donation by visiting www.ifrc.org/en/get-involved/donate/
Cholera outbreak also posing risks in Haiti
Due to severely damaged water supplies and sanitation systems, the rise in cholera cases is posing a risk to thousands of people in Haiti. Cholera is an acute intestinal infection caused by the ingestion of contaminated food or water. It also causes severe dehydration, and can be fatal if left untreated.
The United Nation's Central Emergency Response Fund said in a statement on Friday, October 7th that "in 2016 almost 27,000 cholera cases have been reported in Haiti, and over 240 people have died…Hurricane Matthew is feared to significantly worsen the situation and increase the risk of a larger outbreak."
The Haitian Health Ministry's cholera programme said at least 62 people were sick from cholera since the passing of Matthew. Haitian government officials said on Saturday, October 8th, that at least 13 people had died of cholera in southwest region of Haiti.
Since children are usually vulnerable to cholera, the World Health Organization (WHO) announced on Tuesday, October 11th that it would send a million cholera vaccine doses to Haiti after the surge in cases.
WHO spokesman Christian Lindmeier said an exact number of cholera cases is hard to estimate. Although some cases can be mild, when treatment is unavailable, the loss of fluids through diarrhea and vomiting can lead to rapid dehydration and shock.
"Cholera is a disease nobody has to die from. Eighty percent of people infected will only show mild symptoms, and it can be easily treated if people are properly hydrated," said Lindmeier.
The WHO notes that rebuilding health facilities is one of their priorities, and warns that cases of cholera are expected to rise as the rainy season approaches in November.
Follow The San Pedro Sun News on Twitter, become a fan on Facebook. Stay updated via RSS