Family reports killer bee attack
Thursday, June 29th, 2017
An Ambergris Caye family is happy to be alive after they survived an attack by a swarm of Africanized killer bees. The incident took place during Father's Day on Sunday, June 18th, in Northern Ambergris Caye. Island resident Rudolph 'Bonito' Hernandez was unexpectedly attacked at his work place by the deadly insects. He and his wife survived; however, their German shepherd dog was not so lucky, and succumbed to the bee stings.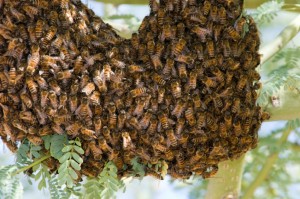 Hernandez told The San Pedro Sun, the he is the caretaker of a property in Northern Ambergris Caye and shortly after midday that day, he and his wife, along with his dog, went to take a look at the property when the unexpected happened. "It happened so fast, "said Hernandez. I had tied my dog to a coconut tree and shortly after my wife yelled to me that our dog was under attack by the bees. I made two attempts to save him, but every time I would try the bees would come down on me." Hernandez said that his dog died on the spot, while he was badly stung by the bees.
Hernandez indicated that after the attack he and his wife drove to an establishment nearby known as El Norte. There he received assistance and was transported to the Dr. Otto Rodriguez San Pedro Polyclinic II where he received treatment for a day and half. "I had never experience anything like that. Thanks to everyone that helped me out and to the medical assistants at the polyclinic," said Hernandez. He is happy to be alive, but saddened over the loss of his dog.
The hive, which according to him was approximately four feet wide and five feet tall, was destroyed that same day by personnel from The San Pedro Town Council. "Mayor Daniel Guerrero quickly responded when he was made aware of the incident. When I went back home the next day, I saw people from the Town Board making sure the bees were not an issue anymore," Hernandez said.
Similar attacks have also taken place in other parts of the country, with the most recent one in the Cayo District on May 26th. 60-year-old Cruz Chan was stung to death by the killer bees when she went to school to pick up her two grandchildren. She reportedly died on the school's veranda screaming for help. Teachers and students reportedly locked the windows and doors to classrooms to prevent students from coming under attack by the bees.
The San Pedro Police Formation advises the general public to keep a look for these killer bees, which travel long distances. These bees are suspected to have come from the mainland and usually look for shaded areas, particularly in abandoned structures. In the event someone finds a killer bee hive, they are advised not to tamper with it, and report it immediately by calling the police station at 206-2022 as well as The San Pedro Town Council offices at 226-2198. Killer bees are much larger than normal honey bees, and they nest in high aboveground cavities and are extremely aggressive when disturbed.
Follow The San Pedro Sun News on Twitter, become a fan on Facebook. Stay updated via RSS