Tom Marvel to create plan for Marco Gonzalez Visitor center
Friday, February 1st, 2013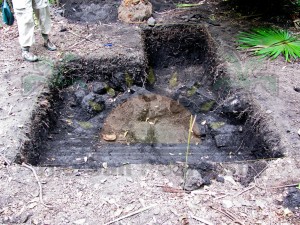 The groundwork has commenced for the Marco Gonzalez Archaeological Site to get its welcome center. Visiting from San Jose, Puerto Rico, Architect Tom Marvel was on Ambergris Caye canvassing the site and getting acquainted with the island in preparation to create what the new Visitor's Center will be.
At the end of his visit, he was hosted by Mayor Danny Guerrero and wife, plus members of the Board of Directors of the Marco Gonzalez Archeological Site, to dinner at Elvis Kitchen on Saturday January 26th. Speaking of his experience on the island, Marvel stated; "You have a very interesting town here. Very Caribbean. Very lively, lots of things going on, I think it is very impressive – extremely highly developed."
Tom Marvel is an instructor in one of the Caribbean's most renowned school of architecture, University of Puerto Rico's School of Architecture. He is what most would consider, in his own words "a design critic". Marvel arrived on the island on January 24th and left on the 27th. While in San Pedro, Marvel had a chance to meet with the locals as well as learn about the history of the island as well the Archeological Site.
He plans on taking this wealth of information, along with tons of photos of the island, its culture and the site, and have his students use this to come up with designs for the new center. Work on the designs will commence in early February with the two best final products being sent back to Belize in May. Marvel expressed to The San Pedro Sun that he plans on insisting that all designs take into consideration Belizean materials, and he envisions the final product being a completely Belizean production. At the moment, the Marco Gonzalez committee is working on securing funds for the construction of the center. For any information on the Marco Gonzalez site or to find out how you can assist, feel free to contact Jan Brown at 662-2725.
Follow The San Pedro Sun News on Twitter, become a fan on Facebook. Stay updated via RSS