National News: PUC approves 6.9% increase in water rate
Saturday, May 3rd, 2014
The Public Utilities Commission (PUC) has approved an increase in water rates requested by Belize Water Services (BWS) Limited. The confirmation came via a press release from the PUC dated Monday April 28th and was followed by a press conference on April 29th. With the exception of Caye Caulker, water will increase countrywide by 6.9%.
According to PUC, in December 2013, BWS applied for a water increase of 16.2% in the annual tariffs but were denied that increase and instead recommended a 6% increase. The reduction in the requested increase was triggered by a reduction in the company's proposed capital investment.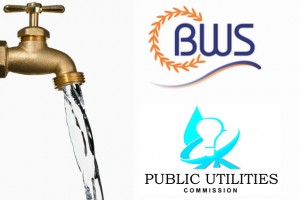 According to Rudolph Williams, PUC Water and Water Sector Director, BWS appealed the initial decision, which triggered a review of PUC decision. "BWS made a submission to the PUC for an annual review proceeding for the approval of a 16.25% increase in tariffs to be applied during the annual tariff period of April 1, 2014 to March 31, 2015. After reviewing the proposal and considering BWS's past performance and its ability to fund its investments, the proposed $25.675 million in capital investments for 2014-15 was reduced to $14.326 million. On January 31st, the commission issued its initial decision for an average increase of 6.4% on the average tariff to be applied for the 2014/2015 annual tariff period. On February 17th, BWSL objected to the commission's decision on the grounds that the regulated asset values are incorrectly calculated due to a misunderstanding of the accounting treatment of developer's contributions and equity contributions."
That appeal let to an adjustment in the increase up to 6.9%, still less than the 16% that BWS was asking for. The increase represents approximately 50 cents more on the water bill for local consumers. Those increases are approved across the board with the exception of Caye Caulker village, who will continue to enjoy the current water rate. Those changes are effective as of April 1st.
Follow The San Pedro Sun News on Twitter, become a fan on Facebook. Stay updated via RSS