Sotheby's International Realty brand launches newly redesigned website
Monday, April 6th, 2015
Ambergris Caye, Belize (April 1, 2015) – Belize Sotheby's International Realty, a luxury real estate firm based in Ambergris Caye & Placencia, Belize, today announced the launch of the Sotheby's International Realty® brand's newly redesigned website, sir.com, which was built to showcase the network's listings in an immersive and visual way that is unique to the industry.
"The new sir.com was created to tell the story of a home in a more editorial way, not the commoditized approach that can often be found in our industry," said Wendy Purvey, chief marketing officer, Sotheby's International Realty Affiliates LLC. "We believe the art of marketing a home is based on showcasing its soul, so every aspect of the new site works toward this goal."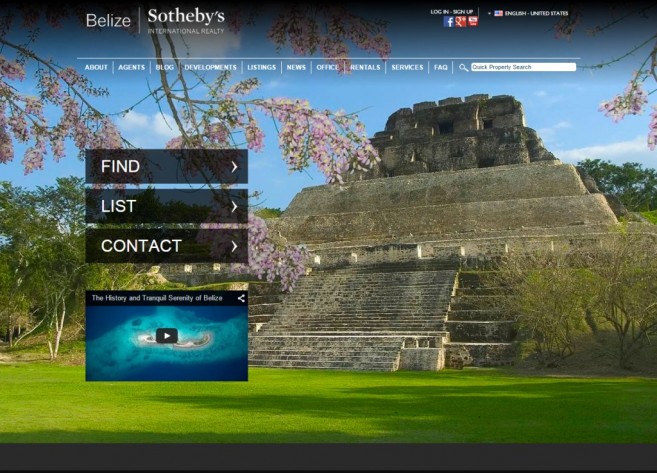 The design changes include an increased focus on full-screen, high-definition video throughout the site, from the homepage to property detail pages, to allow for a more immersive consumer experience. High-resolution photography also plays a more prominent role. The property detail pages feature: slideshows that tell a home's story via the captions, custom video, location overviews that provide insight into the local area via video and text, and a seller or expert quote that offers a personal view of the property.
Consumers still can search for a home based on lifestyle and amenity but now have the ability to sort their results by various home features including pools, kitchens and views, and compare visual images of that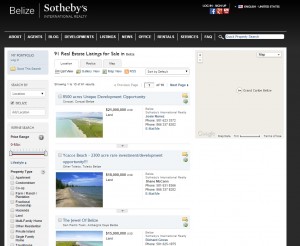 feature among their search results.
"At the foundation of the Sotheby's International Realty brand is our focus on lifestyle," said John Passerini, vice president of interactive marketing for the brand. "Our lifestyle search is more visual, and our focus on video and photography allows our affiliates to showcase the various lifestyles a home offers that cannot be properly articulated in words only. Our fully responsive site works on any mobile device and allows our network members to do what we believe they do best: uniquely showcase extraordinary homes around the world anytime, anywhere and in any language."
"We are proud to be part of the Sotheby's International Realty network and believe consumers worldwide will benefit from the groundbreaking features of the new brand website," said Shane McCann, Broker/Owner – Belize Sotheby's International Reality. "The homes Belize Sotheby's International Realty represents in Belize are unique, and the new sir.com allows us to showcase the heart of what makes them so special."
Belize Sotheby's International Realty, which has offices in Ambergris Caye & Placencia, offers exclusive Sotheby's International Realty marketing, advertising and referral services designed to attract well-qualified buyers to the firm's property listings. In addition, the firm and its clients benefit from an association with the Sotheby's auction house, which promotes real estate referral opportunities with auction house clientele.
As a Sotheby's International Realty affiliate, the firm also has the unique ability to refer its real estate clientele to the auction house for jewelry, art, unique furniture and collectible appraisal services. Property listings from Belize Sotheby's International Realty also are marketed on the sothebysrealty.com global website, as well as on the firm's local website, www.belizesir.com.
Belize Sotheby's International Realty is located at 4 Barrier Reef Drive, Ambergris Caye & Main Street Placencia . For additional information, please contact +501-226-4309. The Sotheby's International Realty network currently has more than 16,500 sales associates located in approximately 760 offices in 60 countries and territories worldwide. Each office is independently owned and operated.
Follow The San Pedro Sun News on Twitter, become a fan on Facebook. Stay updated via RSS