Fyffes pulls the plug on Belize's Meridian Enterprises
Monday, October 26th, 2015
The Banana Industry, one of the strongest agriculture-based enterprises in southern Belize, is going through a serious crisis after Irish multinational enterprise, Fyffes, decided to pull the plug on Meridian Enterprises, better known as Mayan King. The fruit importer stopped buying bananas from Belize's biggest producer because of its links to local business man, John Zabaneh, who was named by the United States of America authorities as a drug kingpin. The cancellation of the contract with Fyffes has left over a thousand people without jobs. As a result, a massive protest erupted in front of the Banana Growers Association, the supplier for Fyffes located in Big Creek Independence Village on Thursday, October 22nd, with jobless people protesting the termination of the contract with their former employer.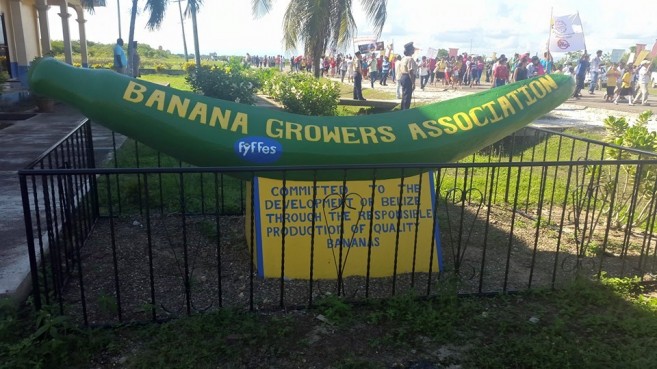 In a statement released on Tuesday, October 20th, Fyffes confirmed that it ceased buying bananas from Meridian Enterprises because they believe Zabaneh has been acting as a spokesman for the company. However according to the company's director, Jose David Gonzalez, this is not the case. "Fyffes cut us off because they believe that John Zabaneh has affiliations with us, they even said it in a statement that Zabaneh speaks on our behalf and the truth is that the spokesman for Merdian Farms is me and no one else. But, the issue is that Fyffes was giving Meridian some bridge financing during the lean months of production. This set off alarms at Fyffes headquarters in Ireland, who assumed that Zabaneh is connected with us and they are saying that they cannot afford to do business with any company that has a kingpin link," said Gonzalez via a phone interview with The San Pedro Sun.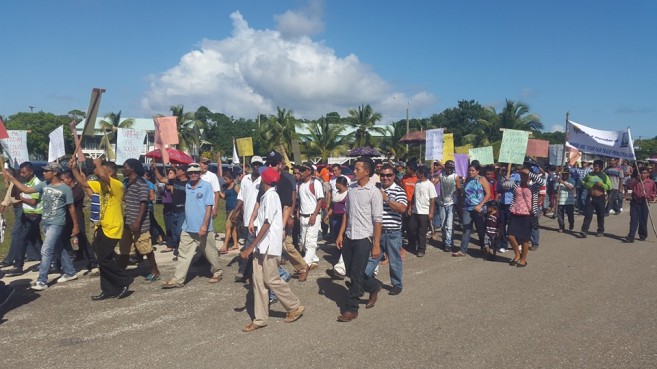 The abrupt shut down of the company caught many of the former employees unprepared and the company embarked in a temporary meals program, meanwhile the situation was addressed. "We began providing two meals a day for the workers, while we worked out their last salaries. They still had six working days to be paid. But six days of pay is just not enough to sustain your family, pay bills and even relocate in order to find a new job. This is an injustice to these people, who are the most affected," stated Gonzalez. The employees were paid their last pay check on Friday evening, October 23rd and with this, the meals program also came to a halt. Gonzalez is asking any enterprises around the area to try and support these hard working people who will need a new job. He is highly recommending them to any company that may have any openings.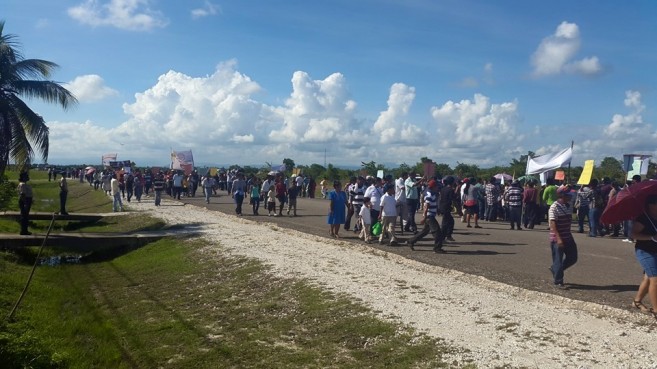 As for Meridian Enterprises they will be looking into seeking legal counsel and pursuing a legal claim for damages. "Meridian Enterprises suffered damages in relation to the sudden closure of the contract, such as a major devaluation of the property's value and of course financially, because of all the product that we are not able to be ship out. This has to do with the incident that took place three years ago when the American government put a kingpin designation of John Zabaneh and Mayan King Limited, that's how the company was called back then. The company's owner is Myrtle Sheeran, who happens to be John Zabaneh's mother, but the curious thing is that, back then, when we thought it was going to be like how it is now, Fyffes did not pull the plug. They just asked us to put a plan in place and that business was to continue as usual. During that time, a business partner of mine and I came down and we looked at what was happening and decided to take over the management and the assets of Mrs. Sheeran," explained Gonzalez.
He indicated that they have tried several times to prove to Fyffes that there are no affiliations between Meridian Enterprises and John Zabaneh, but all attempts to do so have been ignored by Fyffes.
Gonzalez, on behalf of the company is appealing to the international community for their support in order to bring comfort and justice to all the victims. According to Gonzalez, Fyffes has informed every one of its reasons why they ceased business with Meridian Farms, but they failed informing the world of what the casualties and collateral damages are, especially in the human aspect. "These people should not be forgotten and this action perpetrated by this multinational enterprise will go as the biggest travesty for 2015."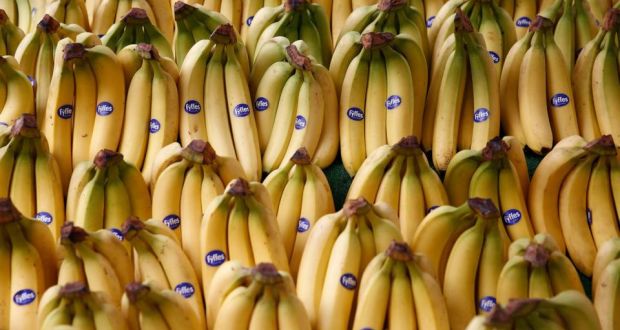 Under the Kingpin Act, the US treasury department in 2012 named Mr Zabaneh as a narcotics trafficker with ties to Mexican drug lords Joaquin "Chapo" Guzman, his Sinaloa Cartel and Colombian suppliers.
The Foreign Narcotics Kingpin Designation Act bans US citizens and organizations from doing business with any person or company that the authorities identify.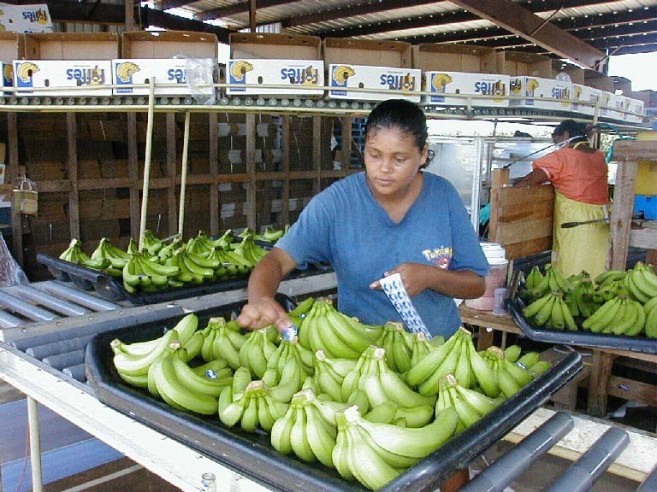 Zabaneh has always denied these accusations, but failed in his efforts to get the treasury department to lift the designation. He has admitted that he was convicted of a minor "marijuana-related" offence in the US during the 80s, which he states was a lesson he learned the hard way.
Follow The San Pedro Sun News on Twitter, become a fan on Facebook. Stay updated via RSS