'Illegal' ComPol declares SPTC's COVID-19 regulations incompatible with National SoE
Wednesday, April 29th, 2020
On Tuesday, April 28th, the San Pedro Town Council (SPTC) announced a new schedule of opening hours for businesses as the COVID-19 pandemic continues to affect the country. This is the third set of regulations that the SPTC has issued, all contrary to those of the National State of Emergency. The declaration of these rules has gotten the attention of the Commissioner of Police (ComPol) Chester Williams, who declared the regulations inconsistent and illegal.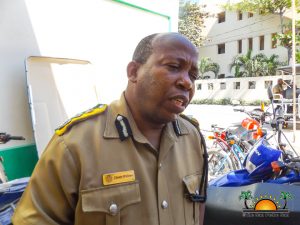 ComPol responded to a statement shared by Attorney Audrey Matura-Shepherd on social media. In his response, he stated, ' We have one country and one central government. There is currently in force one state of emergency that governs the entire country; therefore those measures being implemented in San Pedro [Town] are inconsistent with the State of Emergency and are illegal and none enforceable.'
The San Pedro Sun tried to reach out to the ComPol and the Officer in Charge of the Coastal Executive Unit (Caye Caulker and Ambergris Caye) Superintendent Christopher Noble for further comments on these allegedly illegal guidelines, with no success.
The current State of Emergency is under the Statutory Instrument (SI) No. 62 of 2020 and regarding the opening hours for certain businesses states the following:
Regulation 9 (a) 5AM to 7PM
Fuel stations, fuel depots, liquid petroleum gas (LPG) suppliers, LPG depots, LPG distributors
Bakeries and tortilla factories
Fishing for livelihood and sustenance (no fishing for sport or leisure)
Public transportation providers
Construction and construction sites (private and commercial)
Public transportation
Regulation 9 (b): Businesses that can operate from 8AM to 7PM
Pharmacies
Markets (agricultural produce, fish, and meat)
Convenience stores, food stores, supermarkets, meat shops, butchers, distributors of carbonated and other beverages (including potable water) and food
Store-front outlets for essential businesses (public utilities companies) solely to allow customers to pay bills
Financial institutions (including commercial banks, credit unions, money lending institutions, money transfer institutions, pawn shops)
Mechanic shops, garages, and auto-parts stores
Service of take-out, delivery and drive-thru' facilities (at restaurants, saloons, diners, and other similar establishments)
According to SPTC's release, the opening hours for businesses are as follow:
From 6AM to 2PM: Gas stations, including fuel depots, liquid petroleum gas (LPG) suppliers, LPG depots, LPG distributors along with bakeries and tortilla factories.
From 7AM to 3PM: Stores, shops and supermarkets, as well as hardware stores.
From 8AM to 3PM: Financial institutions like banks, credit unions, Western Union and Moneygram
From 6AM to 2PM: Mechanic shops
From 8AM to 7PM: Pharmacies
From 11AM to 7PM: Restaurants are to operate via delivery or pick-up services only.
Delis, Tacos stands and fruit shops can open from 6AM to 2PM.
Construction companies allowed to operate from 7AM to 4PM – construction sites must register at the San Pedro Town Council: property, number of employees, must have supervisor and engineer registered and present.
Fishing
Fishing for livelihood and sustenance fishing activities must register at the office of Hol Chan Marine Reserve.
They must have a commercial fishing license and should not fish from piers/docks or shores.
Public Transportation
No public transportation to or from the island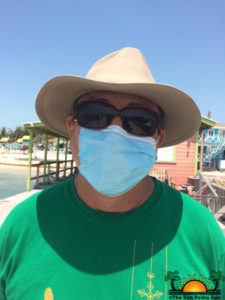 Mayor Daniel Guerrero responded to the comments regarding the island's regulations stating that Ambergris Caye registered the first two cases in the country and what has been done so far is working for the islanders. He commended the groundwork that has been on the island to prevent any potential additional cases. In previous interviews Guerrero stated, 'We are on an island, and we do not have a hospital…if things were to get worse, we do not have the resources…we are kind of prepared, but we have to be real. It is not a challenge that we are doing to the Central Government; it's just that we have to think differently. It's not time to relax.' He added that the island has always been different being far from the mainland. He did not respond directly to The San Pedro Sun about the statement by ComPol declaring the SPTC regulations illegal.
The government will be conducting a virtual press conference on Thursday, April 30th to provide an update on the COVID-19 situation in the country. It is also expected that the details of a new SI might be unveiled as the two-month extension of the current State of Emergency is set to start on Friday, May 1st.
Follow The San Pedro Sun News on Twitter, become a fan on Facebook. Stay updated via RSS