BEL responds to complaints of unusually high utility bills
Saturday, August 22nd, 2020

Following the first lockdown on Ambergris Caye in March due to the COVID-19 pandemic, many islanders have been struggling to survive and trying to pay their bills, such as electricity and water. These utilities have been the center of controversy as many residents claim to have seen astronomical increases in their statements. Representatives of the Belize Electricity Limited (BEL) spoke with The San Pedro Sun, explaining the possible causes and suggesting some measures customers can adapt to manage their energy consumption. The company also urges its customers to contact BEL when they have concerns about their bills immediately. The company reminds customers that it remains available through various options including calling 0-800-BEL-CARE, online chat at www.bel.com.bz, Facebook Messenger, WhatsApp 600-6097 or an email to [email protected].
Belize Water Services was to comment on the issue via email, but up to press time, no answer had been received.
Over the past few months, people around the island and countrywide have been complaining that for some reason, their water and light bills are higher than normal. Some claim that they are being double- or triple-charged, and suspect their bills are being averaged. Customers also allege that their meters are not being read, and the bills are not reflecting what they consume.  Both utility companies refute these allegations, and have indicated that they continue to physically read meters to produce their consumer's bills. Despite their denial, the situation has led to the creation of an online campaign asking people to sign a petition to 'Investigate Belize Electricity Limited for Suspicious Billing'. Information on the online petition can be further viewed HERE. At press time, over 4,400 signatures had been garnered.
In a phone interview, Marlon Smith, Superintendent in charge of Metering and Loss Reduction at BEL asks customers to play close attention to how they use energy.  Smith said that during these long periods of lockdown, when people stay at home most of the time, they tend to consume a lot more electricity than normal. Some examples he gave are electrical appliances (TV, fans, tablets, computers, radios etc.) being in constant use throughout the day. People will also make more trips to the refrigerator requiring this appliance to use more energy to keep the items inside cool. Overall, the monthly electricity bill is calculated based on the total energy used by all electrical appliances and devices in the household.
Bills doubling or tripling?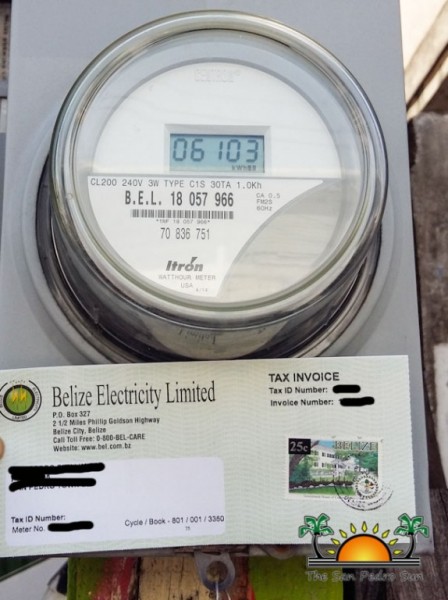 Smith, along with Vonetta Burrell, Manager of Corporate Communications urged customers to check the reading date on their bill, which shows the actual period for which they are being billed. The billing period for most customers' billing period is a combination of days between two months.  Customers should note that if the previous month's bill was not cleared, that amount would be reflected as a balance forward on your current bill, which will be included in the amount due. Therefore, the amount due will be reflective of more than one month's bill.
The Public Utilities Commission approves the electricity tariff structure. There are three tariff brackets for residential customers: consumption of 0-50kWh is billed $0.34 per kWh, consumption of 51kWh to 200kW is billed at $0.40 per kWh, and if consumption is above 200kWh, you are billed at $0.45 per kWh.  This crossover from one tariff bracket to the other may result in some customers' bills reaching $100. which will result in 12.5% GST applied to the bill.
Whenever customers have concerns about their bills, they are encouraged to check directly with BEL for an explanation of their bill and for assistance with managing their consumption.
Keeping track of energy usage
In these times of hardship, customers are advised to keep an eye on how much electricity they consume. To better keep track of their consumption, customers can read their meter on a daily basis to find out how much electricity they are using. Consumption is calculated by subtracting your previous reading from your current reading.
Other helpful tips include making sure all appliances are working efficiently, using energy-saving light bulbs such as the LED type, unplug appliances not in use, place the refrigerator thermostat at medium, iron gradually, wash clothes on the shortest cycle and wait for a full load.
No waiver on bills
With the pandemic leaving people without jobs, people across the country were asking for a break in the payment of utilities for at least three months. Back in late March at the beginning of the State of Emergency in the country, BEL indicated at a press conference that they need to generate income to cover operational expenses, including the purchasing of power from other independent power suppliers. Sean Fuller, General Manager of Commercial and Retail Services stated that despite the dire situation, BEL could not allow its customers to defer payments or waive light bills. However, if customers cannot cover their bills they will look at each situation on a case by case basis. "We also have facilities in place that if a customer requires a payment arrangement to extend their payment for a later date because they really cannot afford to do it now, we will work with those customers and be able to find a solution to get over this hump," he said back then.
Prime Minister not fully aware of the problem
The concern was brought to the attention to Prime Minister Right Honourable Dean Barrow on Friday, August 21st during a virtual press conference. Barrow was informed of the online petition to investigate BEL, but said he was unaware of the issue and would look into it.
In the meantime, BEL reminds customers that all services are still available countrywide and to contact them for any questions or concerns about their bill. The company also provides service updates and billing information by text message and email, to receive, customers only need to make sure they update their contact information with the utility company.
Follow The San Pedro Sun News on Twitter, become a fan on Facebook. Stay updated via RSS