Taxis cleared to conduct business across the bridge
Friday, December 31st, 2010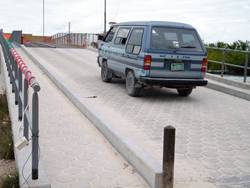 News reached The San Pedro Sun of Taxi Cabs sighted on Northern Ambergris Caye, past the Boca del Rio Bridge. Up until recently only golf carts, bicycles, motorcycles and pedestrians have been allowed passage over the bridge. Looking into the matter, The San Pedro Sun spoke with Mr. Pablo Ico, Deputy Mayor and Chairperson for the Ambergris Caye Traffic Control Committee (ACCTC). Mr. Ico stated that the information was in-fact accurate. According to him, the decision was made in a meeting held on December 21st with Counselors, the Minister, Hon. Manuel Heredia and representatives of the ACTCC. The decision was made and would be carried out on a trial basis. This service, he stated, would give tourists, as well as residents of North Ambergris Caye more options and a more efficient means of transportation.
Taxis will be able to cross the bridge for a total cost of $12.00BZ toll and allowed to go as far north as Las Terrazas. Taxis travelling across the bridge must abide by a ten-mile per hour speed limit. The bridge will be open to taxis between the hours of 6:00am to 9:00pm. As this is a privilege, it will be taken away, should any taxi driver or association fail to abide by the regulations. The ACTCC hopes to work with the North Ambergris Caye Neighborhood Watch to monitor the actions of taxis on the north end in regards to speeding and moving vehicle regulations.
While taxi drivers and the ACTCC are optimistic and happy about this decision, many residents of North Ambergris Caye do not share the same enthusiasm. One resident commented, "This is not a good idea, first of all, allowing those vehicles to traffic the streets of North Ambergris Caye will take away from the quite ambience that people come here for. Furthermore, the racing by the houses is definitely going to create a safety issue. So far, I have seen two taxis on two different occasions, speeding by and throwing garbage onto the roadsides." Another grave concern was the impact that taxis will have on the condition of the roads, especially in the rainy season.
The committees involved held a meeting with the Taxi Associations and the Federation on Wednesday, December 29th to discuss the conditions. During this meeting a standardized price list was formulated as well as the abovementioned limitations. The standardized price list will apply to all taxi cabs providing services to clients in all of Ambergris Caye and must be displayed at all times within the cabs.
Follow The San Pedro Sun News on Twitter, become a fan on Facebook. Stay updated via RSS