Cancer Walk unites residents and visitors
Thursday, February 10th, 2011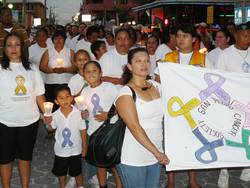 February 4th was observed as World Cancer Day, and all over the world activities were held to honor those who bravely battle the terrible disease, those who have lost the fight, and those who have triumphed over it. In San Pedro, the Cancer Society had organized a candlelight walk through the main thoroughfares of the town core, and by the time twilight hit, there was a large crowd gathered to begin their march.
With candles lit, a solemn prayer was said by Mrs. Shelly Huber, and with the SPHS drummers in the lead, walkers began their route. Wearing pins, special t-shirts, holding photos of lost family/friends or simply reliving memories of those who've been dealing with cancer, people walked in solidarity. Island visitors joined in and the impressive number of walkers made quite a wonderful sight.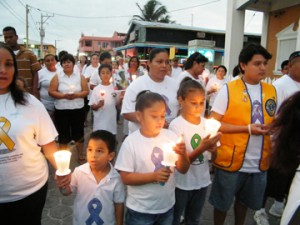 San Pedro Cancer Society President Monica Prevett was overwhelmed with the turnout and she expressed her gratitude to those present for making the first event such a great success. She reiterated that while there are great success stories, there are also many victims of the terrible disease who continue to fight and she asked that everyone join in the efforts to help. Under the theme: "Supporting the fighters, admiring the survivors, honoring the taken, and never EVER giving up. Where strangers become friends…battling cancer…side by side", the night was an emotional one indeed. After the walk ended at the entrance to the Lions' Den on Barrier Reef Drive, a moment of silence was held.
On Sunday, February 6th, the members once again joined to host a fundraiser to continue to provide help for those victims who are dealing with cancer on a daily basis. With a rice and beans sale, along with drinks, pastries and even a Chinese auction, the Lions' Den was the place to be. Rompe Raja provided music as always, and for the loyal supporters of the Cancer Society, it was a day of celebration for the fighters who refuse to give up. The San Pedro Sun says "well done" to the organizers and a big thank you to all who helped raise $1,620.47. These funds will go a long way towards helping cancer victims on the island.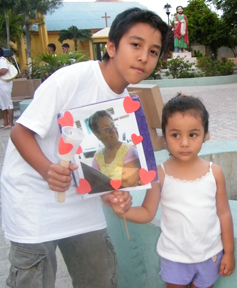 Follow The San Pedro Sun News on Twitter, become a fan on Facebook. Stay updated via RSS