The San Pedro Cancer Society turns 1
Saturday, August 20th, 2011
Cancer affects people of all ages, and as a disease that annually takes up to 8 million people's lives worldwide, it certainly hits home when one of our community members is affected. San Pedro Town is a close knit community that cares for its own. When the call is sounded for a fundraiser, the residents respond generously. However, when it comes to a disease like cancer, a lot of people prefer to get treatment in private.
The San Pedro Cancer Society (SPCS) was established a year ago to provide guidance and help to those who are affected by the disease. Often, family members of the patient and the patients themselves, prefer to keep quiet about their disease. The SPCS helps in providing moral support, placing phone calls and guiding them in the right direction. When families decide to host fundraisers, the volunteers that make up the SPCS provide manpower to help as well.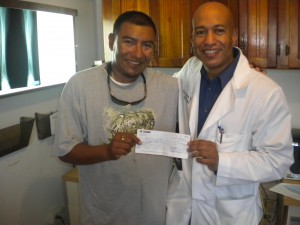 President Monica Prevett was moved to create this group after someone close to her, Edwin Gamez, was diagnosed with cancer. Not knowing how to proceed, she and Edwin searched high and low, ultimately discovering the Belize Cancer Center (BCC) in Dangriga. For many, the option to leave the country and get treatment abroad is far-fetched, due to finances and convenience. The Center runs solely on donations, and provides treatment for many cancer patients in the country. Now, one year after treatment, Edwin has been given the official all-clear by his doctor. In appreciation of the wonderful care that the BCC provided, Edwin handed over a check for $500BZ on behalf of the San Pedro Cancer Society.
At the one-year anniversary meeting, Prevett and those present reiterated their commitment to providing help that is so obviously needed in the community. While the society may seem quiet, a lot of the work is done behind the scenes on a one-on-one basis with patients who cherish their privacy but have reached out for help. However, coming up are two great activities that are geared to bringing awareness to the society and the work that they are doing:

September 17th: Blood Drive at Island Galleria. There will be food on sale as well. People are encouraged to swing by and give one of the most precious gifts – blood.
September 20th: The San Pedro Cancer Society will have a booth at the Independence Day Block Party. Be sure to come and enjoy lots of yummy treats, including cupcakes, sweets, corn dogs, dips, special drinks and much more. There will also be raffles for some amazing prizes. Don't miss it!
To get more information on the San Pedro Cancer Society, and how you can help, please contact President Monica Prevett at 665-0611 or Miguel Perez at 670-1293. You can also email them at [email protected]. To find out more about the work that the Belize Cancer Society does, visit their website at www.belizecancercenter.org or email them at [email protected].
Follow The San Pedro Sun News on Twitter, become a fan on Facebook. Stay updated via RSS