Crave hosts SAGA's Seafood Cookoff
Monday, October 24th, 2011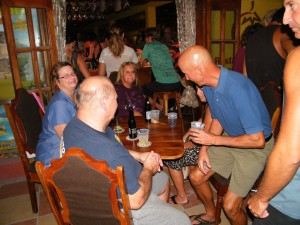 SAGA joined up with Crave restaurant on Wednesday night, which hosted their monthly cook off. The special for the night, Seafood. There were seven entries. Pineapples Stuffed Jalapeño Shrimp wrapped with Bacon; 'Sushi' Sharon Metcalfe with her Sea Bass Fish Fingers w/Dill Tartar; Wahoo's Lionfish Cakes; Noemi Castro with her Shrimp Cocktail w/Corn Tortilla Chips; Edgar Lima's Variety Fish Fingers w/Island Dressing and Crave's Glazed Fish Cakes.
At the end of the night, after votes were tallied, the winners were called out. Third place went to Crave Restaurant & Lounge – they won a hand mixer courtesy of SAGA for their Glazed Fish Cakes. Second place went to Pineapples for their Stuffed Jalapeño Shrimp Wrapped w/ Bacon. They won a Trip to Lamanai for Two Courtesy of Searious Adventures. First Place went to Wahoo Lounge with their Lion Fish Cakes W/Creamy Chipotle Sauce. They took home an iPod Shuffle.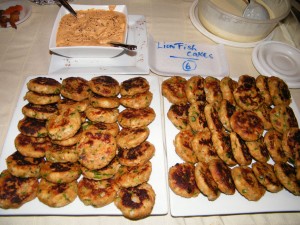 Four raffles were held through the course of the evening. Cindy Beer won lunch for two from Ramon's Village. LouAnn LeClair won a Bailey's & Starbuck Coffee Basket courtesy of Rebecca McDonald. Jan Brown won a condiment set courtesy of Taco Girl. And Rebecca Coutant, a.k.a. SanPedroScoop, won a toaster courtesy of Saga.
The organizers of SAGA's cook off take this opportunity to extend a big thank you to everyone who came out and showed their support. The next cook off is scheduled for Wednesday, November 16th at Wahoo Lounge – the theme will be announced at a later date.
View Gallery Below
Photo Gallery
Follow The San Pedro Sun News on Twitter, become a fan on Facebook. Stay updated via RSS