Presenting the Barry Bowen Bridge
Friday, December 2nd, 2011
The recently renamed bridge is in need of urgent repairs
The Boca del Rio Bridge was renamed to the Sir Barry Bowen Bridge. Without the distinction of a plaque or monument displaying the new name, the bridge was renamed during a ceremony on Sunday, November 27th, at the inauguration of Laguna Drive. The bridge was designed by the late Sir Barry Bowen who also secured finances for the project through an interest-free loan to the San Pedro Town Council.
Speaking at the event Lady Dixie Bowen, widow of Sir Bowen, explained that Barry was attracted to the architecture of bridges and in his life he collaborated in the construction of 13 bridges. She said that the last bridge Sir Barry built was the one renamed in his honor on Sunday. "Barry would have been proud and honored," said Lady Bowen adding that, "even more so since San Pedro was dear to him." And indeed, the bridge was appropriately named after a great Belizean that contributed a lot to the growth of the island, and to greater extent, the country.
But even with the bridge being renamed, it remains in dire need of urgent and much needed repairs. After becoming aware of the condition of the bridge, The San Pedro Sun decided to take a closer look and walk over the bridge. It was observed that large pieces of metal from the pedestrian walkways on the bridge are literally falling apart while walking on it. In fact, pedestrians have to be extremely careful as to which part of the walkway to use since the metal surface is fast becoming thin, fragile and falling apart. The deterioration has become so bad that pieces of plywood have been placed over sections of the metal pathway, patching some of the larger holes to prevent someone from falling through. Many pedestrians simply choose to walk on the road way of the bridge, causing congestion in an already narrow area.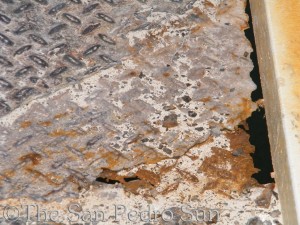 A spokesperson at the San Pedro Town Council confirmed that they are aware of the needs to repair the Sir Barry Bowen Bridge. According to the Council, plans are ongoing to repair the bridge but there has been no indication as to when those repairs will be done. In an interview earlier this year, Mayor Elsa Paz indicated that while the bridge would be paid off by September of this year, the toll fees would remain in order to collect monies for the needed repairs. The Council also took the opportunity to inform The Sun that the bridge is now open to taxi cabs and vehicles without cargo.
Photo Gallery
Follow The San Pedro Sun News on Twitter, become a fan on Facebook. Stay updated via RSS