Mayor says there will be public parking included in the Saca Chispas project
Saturday, October 13th, 2012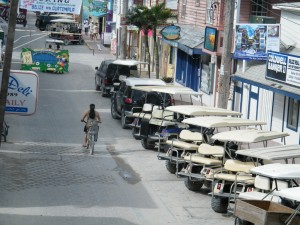 Mayor of San Pedro Town Daniel Guerrero has gone on the record to state that the island will have public parking, even if it is not a part of the Saca Chispas project. Mayor Guerrero made the public statement in response to several concerns as a result of a story published in the October 4th issue of The San Pedro Sun. In the story entitled, "Will there be parking space at the Sunset Boardwalk Project?" it was revealed that there was a human error as it relates to a portion of the land that was once the old Saca Chispas football field. The eastern portion of old football field registered as land Parcel 963 originally designated as parking area in the San Pedro Sunset Board Walk and Water Taxi Terminal Project, locally referred to as the Saca Chispas Project, was erroneously registered at the Lands Department in the name of Jeffery Kahn.
Appearing on a local radio show on October 5th, Mayor Guerrero and his advisor Claudio Azueta Sr. reiterated precisely what our story reported. It was human error at the Lands Department, which was actually confirmed by our source at the Lands Department. However, Mayor Guerrero reassured residents that works are underway to resolving the issue, which should be a simple matter of assigning a different parcel number to the 0.6 acre parcel in question. The original Parcel 963 measuring 50 feet by 75 feet, will also be assigned to its rightful owner Jeffery Kahn, who bought the parcel via Club Caribbean located on northern Ambergris Caye.
The Mayor could not confirm if indeed the error was rectified. Mayor Guerrero also mentioned on the morning show that residents can be reassured that there will be public parking. Speaking to The San Pedro Sun, Guerrero explained that there will be a public parking area at the eastern part of the old Saca Chispas field, the parcel in question.
As readers may recall Christy Mastry who is the Project Director for the San Pedro Sunset Board Walk and Water Taxi Terminal Project went on record to say that a public parking area was "never in the final plans" when the Sunset Boardwalk Project went for bidding. However, Mayor Guerrero said that because the parking area was removed from the Saca Chispas project, the initiative will be undertaken and financed by San Pedro Town Council. Guerrero also said that they are working in acquiring a second piece of property that they intend to use for another town parking area.
Follow The San Pedro Sun News on Twitter, become a fan on Facebook. Stay updated via RSS