Belize Bandfest 2013: Corozal Dominates!
Monday, March 25th, 2013
On Saturday March 23rd, the quiet streets of Belmopan came alive with the sound of the 14 marching bands making their way to the Governor General Field for the opening of the ninth annual Belize Bandfest. Teams from every corner of Belize gathered in the capital city to compete at the FFB Stadium for the coveted titles of Best Drum Corp and Best Wind Instrument Band. While they all prepared for the show, Special Guests, Banda Marcial San Isidoro from La Ceiba, Honduras showcased their talents with extreme flair and precision raising the bar for future Belize Bandfest competitions in all categories.
Other special guests included Dr. Jeff Bright from Western Kentucky University, USA who sat on the judge's panel and the Illinois Secretary of State, USA Jessie White and his tumblers to entertain the awaiting crowd.
Of the eight teams in the Drum Corp category, San Pedro's Isla Bonita All Star Marching Band had the honor of initiating the battle that would eventually end with Belmopan Active Youth (BAY) Marching Band placing 3rd in their first ever Belize Bandfest.
The host team also won the Best Dressed competition with only three months of preparation. Delille Academy Marching Band proved to everyone why they are the best Drum Corp in the South by placing 2nd in their category. Using their innate drumming skills to sweep the crowd off their feet they also took home $2,000 cash prize. First place went to Holy Redeemer Marching Band as they reclaimed their title as Best Drum Corpand $3,000 cash prize with their tribute to Belize and its victims who have fallen to street violence.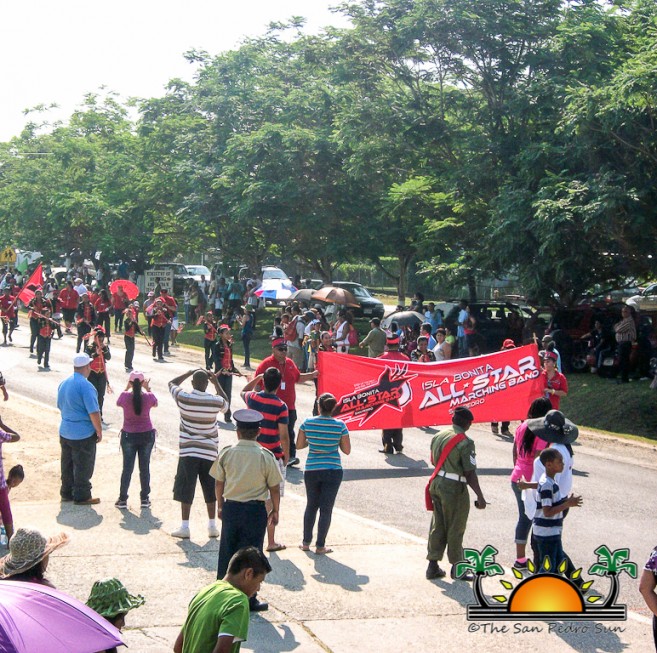 Tensions were at an all-time high during the Wind Instrument category as the different teams brought so much energy to their renditions of songs such as LMFAO's 'Party Rock', PSY's 'Gangnam Style', Gustavo Lima's 'Balada Boa' among others. Diversity was the name of the game that ultimately came down to the five-time champs and last year's winners, Succotz Festival Drum Corp's devastating blow as they placed third in their category taking home $1000 cash prize. BAY Marching Band was not the only new comer to place in Bandfest 2013. Benque Viejo Marching Band made their first appearance and amazed the audience by placing second in the Wind Instrument Category. Corozal Community College entered Bandfest 2013 with a mission to dominate and succeeded by winning the Best Choreographed Group worth $2,000 cash prize, Most Popular Band courtesy Digicell texting competition, placed first in the Wind Instrument category and took home $6,000 cash prize. The Drum Line category will be held at a later date and time as the FFB prepared the football pitch for a friendly match between the Belize 'Jaguars' and the Trinidad 'Soca Warriors' that same Saturday evening.
Photo Gallery
Follow The San Pedro Sun News on Twitter, become a fan on Facebook. Stay updated via RSS