Island Personalities Shine in "Agenda Privada" Travel Program
Sunday, November 10th, 2013
Last Sunday night The San Pedro Sun was invited to El Secreto Resort to meet Mexican travel personality Charlie Rubio and preview his recent hour-long "Agenda Privada" episode featuring El Secreto and Ambergris Caye. We were in good company, with prominent San Pedro community members in attendance along with guests of honor Mayor Daniel Guerro and his wife. After a brief intro the very charismatic Rubio presented the travel program to the group and we were thoroughly entertained throughout the screening. Completely engaged in the charm of our Isla Bonita, Rubio immersed himself into all that is unique about our island home, and who did he go to for a personal tour of San Pedro? None other than our Mayor Danny, who was not only a gracious host but arguably stole the show at times!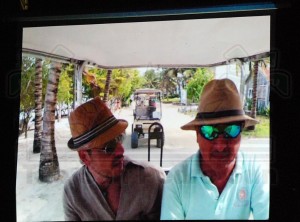 Where else can you go where the mayor of a popular tourist destination tours a guest through his community on a golf cart, pointing out areas of interest and waving at residents along the way? You could tell the two were having a grand time and our island ambassador/mayor took obvious pride in sharing La Isla with his guest. Rubio also joined Nellie Brown at Lily's Treasure Chest where he helped her make their signature ceviche and chatted with her about island life. Others featured in the program included cooking curry-coconut shrimp with Jennie Stains at Elvi's Kitchen and chitchatting with island icon Miss Elvi and family over dinner. The gregarious travel host also caught and cooked lobster with El Secreto kitchen staff while enjoying a glass of wine, amusingly sunbathed and blow-dried his hair between segments, explored snorkeling at Hol Chan and Shark Ray Alley and not only participated in but WON at the world-famous Chicken Drop.
Ambergris Caye was been the subject of many travel productions but this one really made me smile. The vibrant personalities of the residents featured genuinely portrayed our island essence and made me proud that they embodied the real persona of what we, as a community, are really all about. Thank you Charlie Rubio and the Agenda Privada production team for revealing the authentic Ambergris Caye personality and thank you to our community representatives who shone throughout the program, I don't think viewers will be able to resist loving what they see!
Follow The San Pedro Sun News on Twitter, become a fan on Facebook. Stay updated via RSS