Thousands of students sit final part of PSE
Saturday, May 10th, 2014
238 standard six students from Caye Caulker Village and San Pedro Town joined over 5,500 primary school students across the country who sat the final part of national Primary School Examination (PSE). Paper two of the exams was taken on Monday May 5th, and comprised of Mathematics and Social Studies.

According to San Pedro Town District Education Officer Miriam Codd-Pott, the second part of the PSE entailed 10 problem solving and 50 multiple choice questions from math and likewise 50 multiple choice social studies questions. Codd-Pott explained that of the 238 total that sat the exam, 92 students were from the San Pedro Roman Catholic School, 45 from New Horizon Seventh Day Adventist, 34 from Holy Cross Anglican School, 31 from Caye Caulker Roman Catholic School, 15 from La Isla Bonita Elementary School, 11 from The Island Academy, eight from Ambergris Caye Elementary School and two private candidates.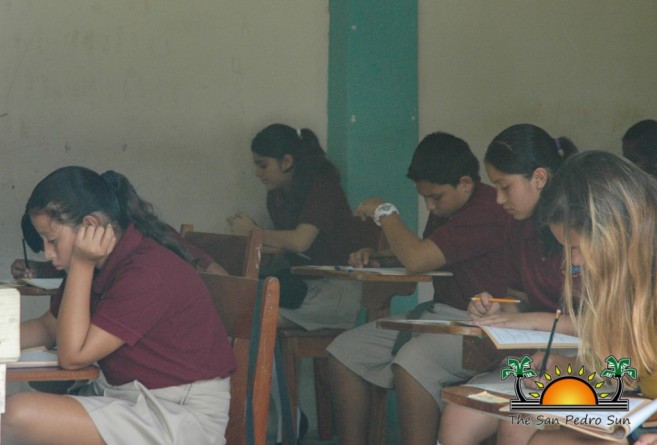 Kylie Alamilla of San Pedro Roman Catholic School is happy that the PSE is finally over, and she is hopeful for the best results. "For the most part it was easy. The most challenging part of the exam had to do with mathematics – problem solving. One of the hardest questions was calculating an electricity bill… I expect to do quite well overall because I put in all my effort preparing for the PSE. I am confident that I did well, and am looking forward to a good result," said Alamilla.

Equally happy that the PSE has been completed are Jackson Leslie and Zulema Ayala, both students at The Island Academy. Ayale said that she too is relieved it is over. "I am looking forward for the results and I am confident that it will be a positive one," said Leslie. "The hardest part of the entire examination was the mathematics, part one having to do with problem solving. But now that it is over with, I am hoping that will get a good grade."
Most of the students said that mathematics, the section which involves problem solving and tested their knowledge of logics, was the hardest component of the PSE. Past results have shown that problem solving is considered one of the most difficult sections of exams and the results are often the lowest. Social Studies is always the subject area in which the students have performed the best in. The results of this year's PSE are due in the first week of June.
Follow The San Pedro Sun News on Twitter, become a fan on Facebook. Stay updated via RSS