Pepé – From Beast to Best Friend in One Easy Snip
Saturday, May 17th, 2014
Pepé was not born with size and strength on his side, but what he lacked in stature, he certainly made up for in swagger. He had spent most of his life hanging around a local park, but didn't have any real owners, people who loved and cared for him.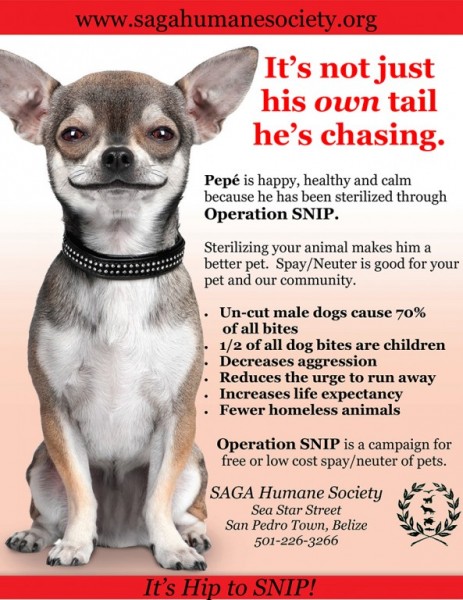 Like most dogs, a home and a family to protect, that would love him in return was all he really wanted. Because he was uncared for, he ran the streets with the big dogs, ripping open people's trash, fighting and barking at night and generally being a nuisance to San Pedro. But deep down, he was determined to work his way into the hearts of someone who would appreciate him. So, when he met a little girl who treated him with kindness, he followed her home. When he wasn't out chasing female dogs, fighting and causing trouble, he would come round to visit her and they developed a close bond. The only problem was that Pepé did not seem able to stay at home and become a good and trusted member of the family because he was too busy trying to be a 'big dog' in the neighbourhood.
Pepé's luck finally seemed to run out when one day, he got into a fight with another, much stronger dog and ended up badly injured. Fortunately, his new friend's family rushed him to Saga to be stitched up and saved. While they were there, they told the Saga vet and staff about the close bond between Pepé and their daughter, Maria, but didn't know how to transform this beast into a dog suitable to be her best friend. They were particularly worried that if Pepé was able to fight with and bite other dogs that he might be dangerous.
Fortunately, Saga was able to provide the family with the perfect solution to their problems – getting Pepé neutered through Operation SNIP. Neutering a male dog is a very simple operation and dogs recover from it very quickly. We wouldn't really want our young children to be around bulls or stallions and yet we often don't think about having uncut (un neutered) male dogs in our home. Children are more likely to be bitten by their own dog or a dog they know than a stray– but even more concerning, they are twice as likely to be bitten if the dog is an uncut male. Neutering reduces the high levels of testosterone that cause dogs to roam, bite and fight and, with a bit of love and training can turn any beast into a best friend.
Now, Pepé is a happy, healthy and much loved pet. Instead of thinking of female dogs all day, wandering around to find them and being a pest, he stays home, loyally protecting his new family, and most importantly of all, the only lady in his life now is his best friend, Maria. Pepé knows 'It's Hip to SNIP'. To find out more about how to turn your beast into your best friend by having him neutered, call Saga on 226 3266.
Follow The San Pedro Sun News on Twitter, become a fan on Facebook. Stay updated via RSS