Saga Humane Society presents 2013 Annual Report
Monday, April 7th, 2014
Since 1999, Saga Humane Society has been assisting Ambergris Caye with the abuse, neglect and overpopulation of island pets. Throughout 2013, Saga implemented several projects aimed at reducing strays and unwanted pets on the island. These projects included Operation SNIP (spay and neuter campaign) and mobile clinics to provide vaccinations to pets whose owners are unable to take them to the clinic.

Saga reports that 170 dogs were taken off the streets and into the shelter in 2013, a 5% decrease as compared to 2012. Out of 170 dogs picked up, 32 were returned to their owners. Unfortunately, Saga reported a 2% increase in euthanization, as 101 of the dogs that were roundup had to be humanely put down, due to age and other medical reasons. Owner surrenders also saw a decrease as only 266 pets were given up to Saga, out of which 178 were euthanized. Sadly, adoption figures were also down, with only 108 animals adopted into new homes. This 36% decrease in adoptions is believed to be a result of the buying and importing of full breed animals.
In order to keep the stray animal population under control, Saga conducted Operation Snip in an effort to reduce the problems associated with community and street animals. A grand total of 639 animals were spayed and neutered free of charge, a 42% increase from 2012. Spaying and neutering reduces the breeding populations and reduces the number of street animals. SNIP efforts were concentrated on owned animals that were left to breed freely in backyards, only to be surrendered or turned loose to the streets as strays. The estimated cost for the free sterilizations was $32,000, which was subsidized through volunteers, grants, donations and fundraising efforts. Success rate was measured by a decrease of 26% in owner surrenders and a 27% decrease in surrender euthanasia.
Throughout the year, Saga also provided free treatment for pets, including vaccinations and parasite treatments. There was a 150% increase in animals treated free of charge, with over 335 pets receiving medical treatment. 321 animals were treated for parasites, while 503 animals received vital vaccinations needed for a healthy life. Vaccines included distemper, rabies and parvo. The estimated cost for medical treatment was at $2,000, which was subsidized through donations.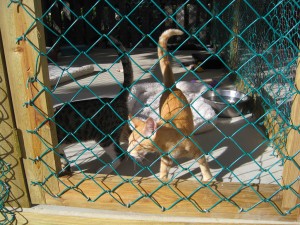 Saga provided a range of educational materials and press releases for the public with information on the responsibilities of animal ownership. Saga, along with the San Pedro Town Council (SPTC) and the San Pedro Police Department worked together after complaints of dogs defecating in the street and dog attacks. To resolve the growing concerns of uncontrolled dogs, all three agencies came to an agreement of enforcing the existing Belize Law Dog Act, through the San Pedro Dog Control Orders. The majority of offenders are owned animals whose owners allow them to roam on to the streets without a leash or under supervision. SPTC holds the authority to license all dogs and implement fines for allowing dogs to be in the streets without a leash and for not picking up dog's poop in a public area. Saga has the full authority to pick up dogs off the street if they appear to be ownerless and without a collar. A fine will be charged to reclaim the dog. Unclaimed healthy animals will be vaccinated, sterilized and put up for adoption.
In 2014 Saga will continue promoting Operation SNIP as well as provided tips to being a good pet owner.
To report an act of animal cruelty, or to learn more on Saga Humane Society or Operation SNIP, call phone number 226-3266 or email [email protected]. Saga Humane Society Veterinary Clinic is open from Tuesday to Friday from 9AM to 12PM and 1 PM to 5PM and on Saturdays from 9AM to 12PM.
Follow The San Pedro Sun News on Twitter, become a fan on Facebook. Stay updated via RSS