Dog Act to be implemented in San Pedro
Thursday, August 13th, 2015
From now on all dogs must be collared and leashed while out in public areas. Saga Humane Society, along with the San Pedro Town Council (SPTC) and San Pedro Police Department, have teamed up to enforce the Belize Dog Act, Chapter 153. The initiative is set to kick off on Saturday, August 15th with a sensitization effort by the police department, and enforcement will begin on Tuesday, September 1st. The implementation of this regulation will not only benefit island pets and pet owners, but also the wider community, including visitors, as the streets will be safer and cleaner.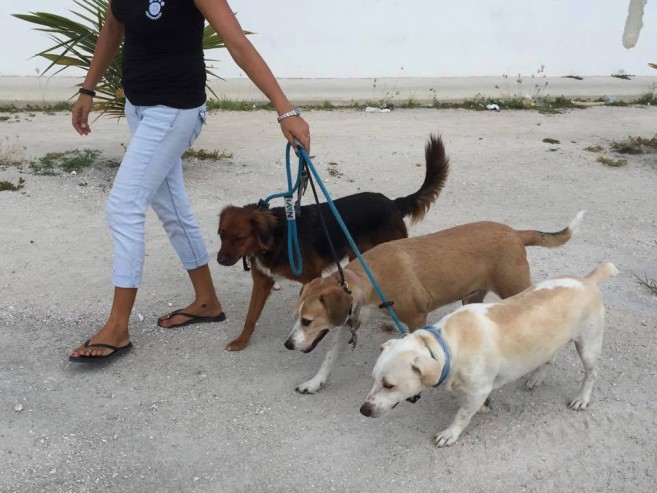 According to Section 10 (1) of the Dog Act of The Substantive Laws of Belize, Revised Edition 2000, "Whenever a dog is seen in a town, on a highway or in a place of public resort in any of the following cases- (a) not having a collar/leash with a licensing badge for the current year attached thereto; or (b) appearing to be a stray or ownerless dog; or (c) being a bitch in heat and being neither led nor carried; or (d) suffering from any contagious disease and not being carried; or (e) suffering from any disease or injury which causes pain to the dog and being neither led nor carried, that dog may be seized by any police officer or dog catcher and the owner of the dog shall in cases (a), (b) and (c) be liable on summary conviction to a fine not exceeding twenty-five dollars."
In order to uphold the regulations, the San Pedro Police Department will be distributing flyers at several designated check points on Saturday, August 15th. These flyer will alert the community of the upcoming enforcement of the regulation that all dogs who are in a public area must be wearing a humane collar and must be leashed and in the control of their owner at all times. Also at the checkpoint providing further information will be Saga volunteers and SPTC staff members.
"This is a great first step towards enforcing the current laws of Belize. Councilor Ruben Gonzalez, Deputy Mayor Gary Greif, and Deputy of the Coastal Executive Unit, Assistant Superintend Henry Jemmott have spent many hours and given great effort to bring this to fruition. We are grateful that our town and law enforcement leaders recognize that dogs and cats are part of our community and that their health and welfare is important to the well-being of our island," stated Katia Marin, Director of Animal Well Being for Saga Humane Society.

Plans for the enforcement of the Dog Act have been at the forefront of Saga since June 2013 when Saga Humane Society Board of Directors met with Mayor Daniel Guerrero and the police to address the growing problems of dog overpopulation. The spike in stray and uncared for pets led to the inhumane eradication methods in an effort to control the population. Since then, Saga has worked also with the relevant parties to bring forward the enforcement of the act. "The Saga Humane Society mission is to promote kindness and to prevent cruelty. The current laws in Belize have provisions for how animals should be cared for, and this is the first step towards kindness. Our thanks goes to our leader," said Saga Chairman Kevin Smith.
In an interview with The San Pedro Sun, Councilor Gonzalez indicated that he strongly believes these new regulations will be a positive for the island. "This will benefit the island, because no longer will be have dogs on the loose, messing up public areas and tearing garbage apart. The streets will be cleaner and residents, as well as visitor, will be able to walk freely past a dog without worrying if it will attack, since it will be leashed and controlled by the owner," said Gonzalez. He also mentioned that the regulations will also benefit the animal. "A dog with a collar and leash will not be mistaken for a stray and therefore not taken to Saga. I also encourage all pet owners to place name tags on their animals with contact information, so that if your pet gets away it can be returned safely and quickly."
Saga, SPTC and the San Pedro Police Department ask everyone for their full cooperation in their efforts to make the island more pet friendly.
Follow The San Pedro Sun News on Twitter, become a fan on Facebook. Stay updated via RSS