Mayor Daniel Guerrero attends CALGA conference in the Bahamas
Friday, August 29th, 2014
The Mayor of San Pedro Town, Daniel Guerrero was elected as the Second Vice President of the Caribbean Association of Local Government Authorities (CALGA). He was elected on Saturday while being part of a Belize delegation that left the country on Thursday August 28th to Nassau, Bahamas. Mayor Guerrero, along with the President of the Belize Mayor's Association and Belmopan Mayor, Simeon Lopez, participated in the biennial meeting of the regional organization.

The biennial meeting took place place over the course of the weekend and early this week in Nassau, and in attendance were mayors and other government leaders from all the Caribbean member countries. One of the items on the agenda was the election of new members. Mayor Guerrero was nominated by one of the CALGA members and was elected as the Second Vice President. Guerrero takes over the position that was held by Mayor Lopez of Belmopan City. It is the second consecutive time that a representative of Belize has held such a position.

CALGA was established in 1992 and is a not-for-profit organization established to facilitate the further development of Local Government within the Caribbean region. The Association's membership comprises of mainly National Local Government Associations, and Local Authorities and Ministries responsible for Local Government where there are no National Associations. Belize Mayors' Association, of which all municipalities are part of including the San Pedro Town Council, is a member of CALGA.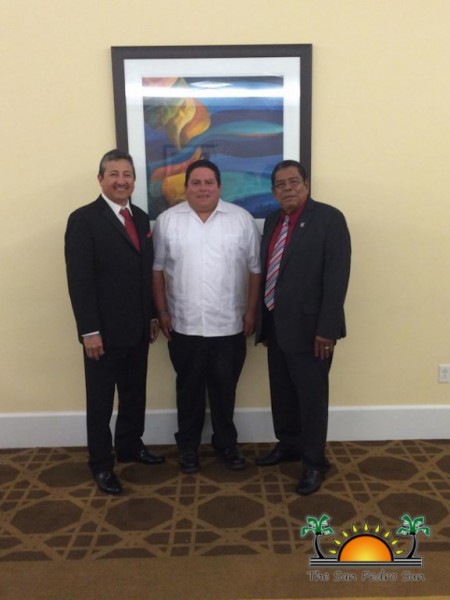 CALGA received support from the European Union (EU) through a framework program of the EU. Those programs are aimed to strengthen and support Local Government Associations at the national and regional levels within African Caribbean and Pacific (ACP) countries (of which Belize is a part of).

Mayors Lopez and Guerrero are expected back in the country on Thursday September 4th. Accompanying the Mayor San Pedro Town was Councilor Severo "Severito" Guerrero.
Follow The San Pedro Sun News on Twitter, become a fan on Facebook. Stay updated via RSS