Belize loses its Parandero King, Paul Nabor
Thursday, October 30th, 2014
86-year-old Paul Santino Nabor passed away on Wednesday, October 22nd in Punta Gorda Town. Nabor had reportedly been ailing for months as he was suffering from pneumonia amongst other illnesses. Nabor is a Belizean icon who has contributed significantly the country's rich musical culture and history.

Born on January 26, 1928, Nabor was a musician from Punta Gorda who dedicated much of his life to keeping the Garifuna culture alive. He specialized in paranda music, a mix of percussion and guitar rhythms. Through his music Nabor promoted the need to preserve the rich culture of the Garifuna.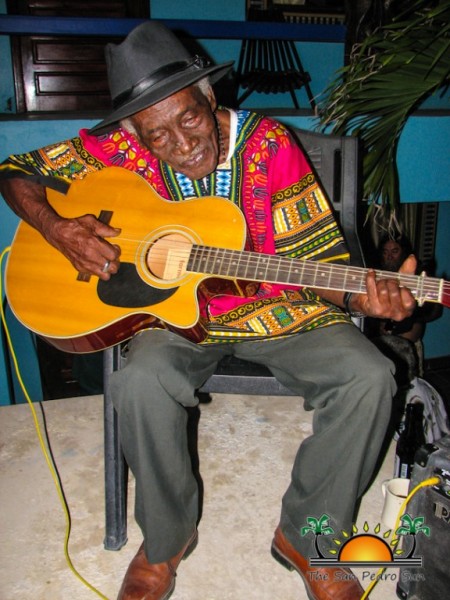 In 2010, Nabor was featured in a documentary film called 'The Three Kings of Belize". The documentary showcased the everyday lives of three Belizean musicians, Florencio Mess, Paul Nabor (+) and Wilfred Peters (+), in their struggle to save the original music of Belize.
Nabor is widely respected for his musical talent both in Belize and abroad. He traveled across the world participating in concerts as a musical ambassador for Belize. "Powerful images stick with me of Paul Nabor. He was a Parandero, a Paranda master, and his whole life was spent with community music," said Yasser Musa, former President of the National Institute of Culture and History.
His music is showcased in an album titled "Paranda" from Stonetree Records. Nabor was also the recipient of the Meritorious Service Award in 2004 and the Order of Distinction Award in 2011.

The Government of Belize held an official state funeral to honor the life of this cultural pioneer. The San Pedro Sun joins the Belizean community in extending the deepest condolences to the family of Paul Nabor. He may be gone, but will never be forgotten. May he rest in peace.
Follow The San Pedro Sun News on Twitter, become a fan on Facebook. Stay updated via RSS