Dr. Irma Zuniga joins Polyclinic Staff
Monday, November 10th, 2014
On Tuesday November 4th, Dr. Irma Zuniga joined the staff at the Dr. Otto Rodriguez Polyclinic II. Originally from Corozal Town, Dr. Zuniga is the new dental surgeon stationed at the island clinic.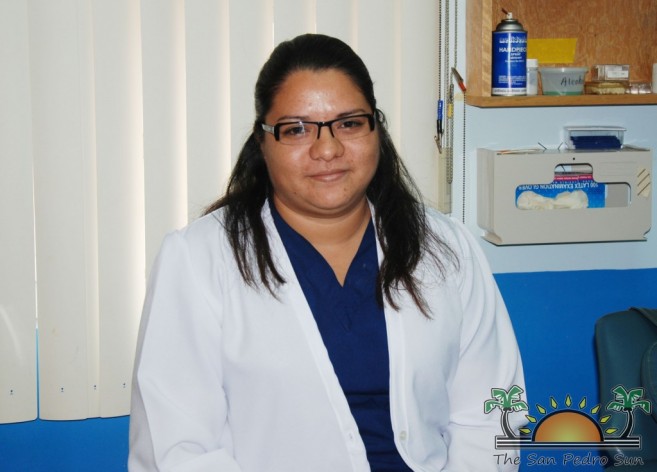 Zuniga studied dentistry at Universidad de Valladolid in neighbouring Yucatan Mexico, and has since volunteered as a dental surgeon in various clinics in Mexico, and also at the Northern Health Region in Corozal Town. Her assignment to the Polyclinic will be her first assignment as a full time surgeon. Dr. Zuniga looks forward to serving the community of San Pedro Town and encourages patients to come in for regular check-ups.
Dr. Zuniga will assume duties on Monday, November 10th. The dental clinic is located on the second floor of the polyclinic and will be open from 8AM to 12PM, and 1PM to 5PM Mondays through Fridays. They will be serving children, pregnant women and adults. In addition to seeing patients at the clinic, Dr. Zuniga will also be making school visits, to be organized through the Ministry of Health and local school administrators.
The San Pedro Sun extends a warm welcome to Dr. Irma Zuniga.
Dental Clinic Schedule
*MONDAYS, WEDNESDAYS, AND FRIDAYS
-Mornings- Starting at 8:00 am= Extractions will be done (Children and adults)
-Evenings- Starting at 1:00 pm= Cleaning and fillings will be (Children and adults)
*TUESDAYS
-Mornings– Starting at 8:00 am= Prenatal Dental Care
-Evenings– Starting at 1:00 pm= Prenatal Dental Care
*THURSDAYS
-Mornings and Evenings- 8:00 am and 1:00 pm Health Education (school visits)
*LUNES, MIERCOLES , Y VIERNES
-Mañanas- Apartir de las 8:00 am= Se realizaran Extracciones (Niños y adultos )
-Tardes- Apartir de la 1:00 pm= Limpiezas y Empastes (Niños y adultos )
*MARTES
-Mañanas- Apartir de las 8:00 am= Cuidado Dental Prenatal
-Tardes- Apartir de la 1:00 pm= Cuidado Dental Prenatal
*JUEVES
-Mañanas y Tardes- 8:00 am and 1:00 pm Educación para la salud bucal (Visitas a los escuelas )
Follow The San Pedro Sun News on Twitter, become a fan on Facebook. Stay updated via RSS