National News: Phone conversation believed to be the murderer of Ramon Cervantes Sr surface
Tuesday, November 11th, 2014
DPP denies all allegation of his involvement
Family members of the late former Senator and Mayor of Orange Walk Town Ramon Cervantes Sr. were back at the police station to give another police report on the request of the Belize Police Department. That request was as a result of the revelation of a recorded telephone conversation between Vilma Cervantes and Manuel "El Pelon" Castillo, the person believed to have executed the murder of the well respected Orangewalkeño. Following the release of the recording, Belize Police Department said that the only person wanted for the murder so far is El Pelon-Castillo who is a fugitive and is being sought with the assistance of Interpol.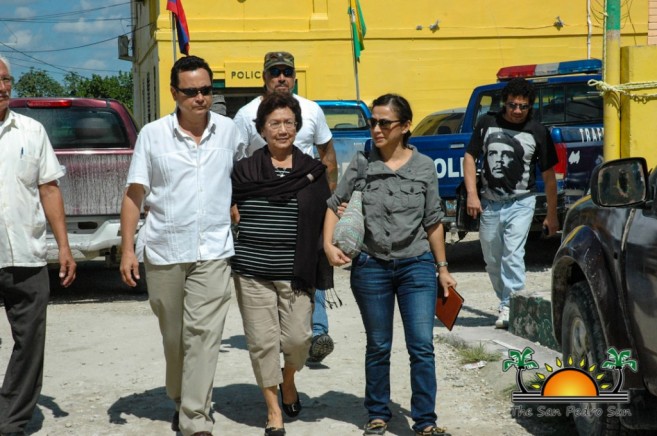 The phone conversation was released to the press during a memorial service in honor of Mr. Cervantes on Wednesday November 5th. The call was allegedly made to the Cervantes family home one month prior to its release, and was made by someone who identified himself as Castillo and whose voice sounds much like that of the wanted person. The caller made serious allegations, indicating that a senior elected Belizean Parliamentarian and Cabinet minister as well as a senior member of the Belize Police Department stationed in Oragne Walk Town was the mastermind behind the torture and execution of Cervantes Sr.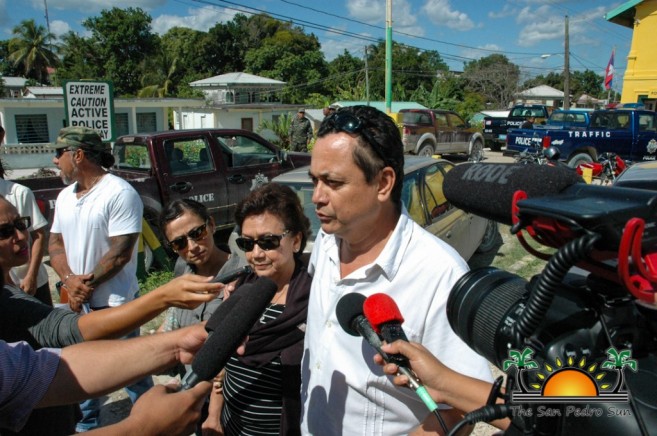 "The young men made a mistake. They went and grabbed your husband. It was your son that they wanted to kill… It's Monchi that they wanted to kill. They made a mistake and they killed your husband," indicated the caller believed to be Castillo. In the conversation that lasted about 16 minutes, he implicated and called names of two main people he claimed planned the murder. Castillo said that he has hidden proof and even recordings in which he was sought, offered a handsome reward to carry out the execution, which he claimed he refused. He claimed that after he refused to carry out the execution, he was shot and left for dead in an attempt to frame him for the murder. According to the caller, he was found by some people near the Hondo River, taken for medical attention and managed to survive and is hiding. He also claimed that because those involved are highly connected to the Mexican mafia, he will remain in hiding until he can clear his name of the murder.
During the conversation, wife of the deceased Vilma Cervantes questioned the alleged killer why her husband was viciously killed. The caller explained that the executioners made a mistake.  "Explain to Monchi not to trust… any police because they are the same ones that are involved in all this. I'm telling you it's a huge organization Mrs. Vilma. That's why I am even afraid to talk because, I don't know, Mrs. Vilma, maybe tomorrow, I will be walking around there and the same people that sent to kill your husband would pay someone there to kill me… I will get the evidence and I will tell you who he (the murderer) is."
On November 6th, the police sent out an unusual police report indicated that the only person on the run for the murder of 71-year-old Ramon Cervantes Sr. and 46-year-old Sonia Maribel Abac Menchu, that occurred in Orange Walk sometime around the 1st of July 2014 and the 23rd of April, 2014 respectively, is Manuel Castillo. "Police investigation has proven so far that no other party apart from wanted person Manuel Castillo and his accomplices are responsible for both murders. Additionally, P.C. 743 Javier Alvarez, who apparently sold a Police Service handcuff to wanted fugitive Manuel Castillo has been placed on disciplinary charges on two counts for Prejudice to Good Order and Discipline and has been interdicted from duty since 26th September, 2014. No other evidence has surfaced to determine otherwise."
Deputy Prime Minister of Belize Hon Gaspar Vega also made a statement since his name was called by the caller. "At that press conference a voice recording was played containing the most outrageously false and defamatory allegation against the DPM. Hon. Vega condemns those that caused the recording and allegations to be played, and those that carried the broadcast. The DPM warns that no other media house should carry or in any way further circulate the reprehensible libel against him."
In a separate recorded statement, DPM Vega said he believes the release of such recording is political. "I continue to sympathize with the tragedy of the Cervantes family, but their grief cannot entitle them to say and now wreck me and my family. I was not and could not have been involved in any way with Mr. Cervantes' death. All who knows me know that I would be utterly incapable of such a horrible thing. I have to feel that politics is involved here."  
On Friday November 7th, the Cervantes family handed the recording over to police along with three police reports. After exiting the Orange Walk Police Station, Ramon Cervantes Jr. told the press that all the family wants is justice. "I hope that as is normal; the conversation was handed in. The ring leader of the ring that killed my dad mentioned a full name in particular and we hope that the police carry out their investigation as they would do with any other ordinary citizen that is accused or mentioned in a crime. In the interest of justice and in their interest, I hope so. The purpose of all this is to get the truth. We are not here to crucify anyone or to go after anyone. This is to find the truth. What we want we've said it, we want the truth and then we want justice."
The phone call made to Ramon Sr.'s widow, Vilma on October 8th was not made from a Belize registered phone company and is believed to have originated from Mexico. Since being on the run, authorities in Belize believe Castillo has absconded to Mexico, where he is believed to have major associates. Three men were arrested and charged for the murder of Cervantes Sr. but Police strongly believe Castillo is the ring leader.
Follow The San Pedro Sun News on Twitter, become a fan on Facebook. Stay updated via RSS