Students use art to Make a Noise about Bullying
Tuesday, November 3rd, 2015
In an effort to raise awareness on bullying, San Pedro High School (SPHS) observed Anti Bullying Month throughout October. The act of intimidating, mentally abusing or physically assaulting others has become a major issue in today's society. The "Make a noise about bullying Assembly" held on Thursday, October 29th was one of the main events of Bullying Awareness Month and saw several students using their talents to raise awareness for the cause.

Events held throughout the month were organized by SPHS student councilor, Alexis Guerrero. "On behalf of the SPHS, I would like to extend our sincerest gratitude to all persons who assisted us in making our bullying awareness month, under the theme 'Make a Noise about Bullying' a success," said Guerrero. The activities were aimed at getting the students involved in the anti-bullying movement by educating them of the consequences of bullying.

The assembly was attended by all students, faculty and teachers of SPHS. It provided a forum for students to voice out their opinions on bullying through art. Opening the event was SPHS Dean of Discipline, Alex Nuñez who elaborated the importance of ending bullying.
Nunez also thanked Guerrero for taking the extra step in organizing the event and to the students who presented. After Nuñez address, the three judges tasked with choosing the top three presentations were introduced. SPHS welcomed past alumni from SPHS, Lisette Graniel, and Francisco Mendez, as well as past principal, Angel Nuñez.

There were eight scheduled presentations, ranging from poetry to singing. Up first was Nancy Alegria and Lucita Guerrero with an emotional poem on bullying and suicide. Next up was Nicole Dunn, who shared some words of inspiration. Camryn Briceno's presentation was a rap song on the negative effects bullying can have on a person.
Divya Wadwha then took the stage entertaining the crowd with her guitar performance. Erika Lopez followed with another heartfelt poem. Job Mendizabal's presentation were some words of encouragement urging all students to stand up against bullying. The last two performances were musical duos by Esther Galeano and Rose Romero, and Nancy Alegria and Lucita Guerrero.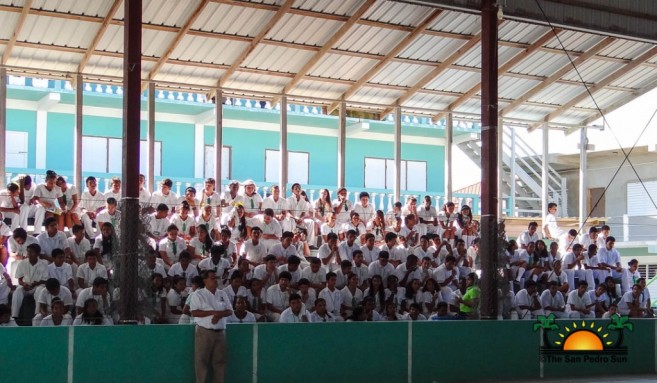 Even though each presentation was unique and creative, judges had to choose the top three. Taking first place was Esther Galeano and Rose Romero. In second place was Camryn Briceno, while third place was tie a between Erika Lopez and Divya Wadwha.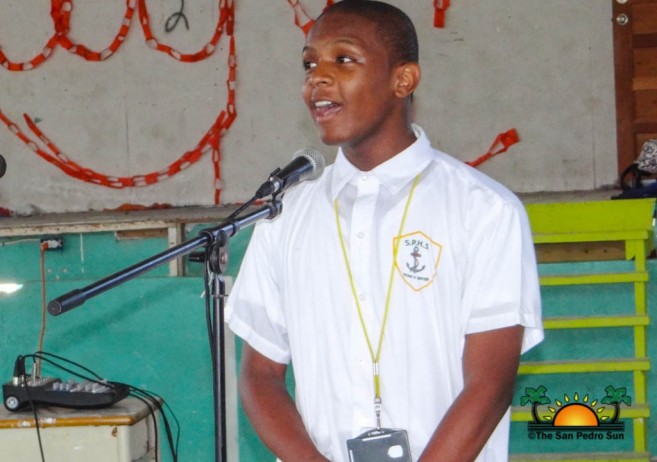 "My heart is filled with gratitude, and for all those who are against bullying, in all its forms. Know that at SPHS, we are working arduously to ensure that we address the issue. It is not an easy task, but with more awareness around the issue, the more support we will have to help prevent it and truly 'Make a noise about Bullying'," said Guerrero during the closing remarks of the event.

Other events held during Anti Bullying month included a poster competition, where two judges were tasked with selecting the first, second and third place winners from 20 entries. The judges were distinct community members Melody Wolfe, a local artist, and Shamir Guerrero, a graphic designer.

The San Pedro Sun congratulates the SPHS for the effort at raising awareness against bullying.
Follow The San Pedro Sun News on Twitter, become a fan on Facebook. Stay updated via RSS