Editorial: The more things change, the more they stay the same
Monday, March 28th, 2016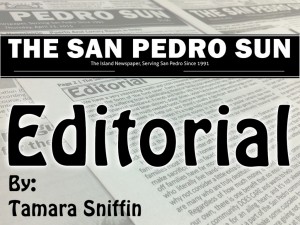 While celebrating the recent 25th anniversary of The San Pedro Sun, one nice person thought we would enjoy reading an old copy of the Coconut Wireless. The Wireless was printed in San Pedro from 1981 through 1990 and the copy we thoroughly enjoyed was dated February 7, 1989; a full 27 years ago! This particular issue featured a less than appealing front page, with headlines ranging from a tourist dying in a diving accident, a speeding vehicle flipping and crashing, a rape and a burglary. We are thankful that rarely does our front page read so grim, but it was surprising that even way back then, San Pedro was evolving from a sleepy fishing village to a community facing growing pains. We couldn't help but think; the more things change, the more they stay the same.
Ironically, the most profound example of this has to be a feature from the Wireless titled From the Mayor's Desk. The Mayor at the, Pedro Salazar, commented on the town council's recent regulation of closing the front street on weekend evenings, stating that although the regulation "…causes slight inconvenience for the taxis and other vehicles, it does, on the other hand, allow everyone, especially our children and tourists to feel safe on the streets. It's a sense of liberty – the sort of environment that one expects to find on an island or tropical vacation resort. Surely there will be some
inconvenience caused, but the pleasure and satisfaction of the majority has been kept in mind." The Mayor also mentions another regulation under consideration; controlling the number and type of vehicles brought to the town.
Fast forward more than a quarter century, and here we are, facing a traffic problem that is completely out of control. Over the years, our town leaders have been more than aware of the growing problem, but regardless of which party held the reins, traffic has trickled through their fingers.
Here at The San Pedro Sun we have been trying to remember when exactly the Town Council Traffic Board (Ambergris Caye Traffic Control Committee?) was dissolved? The board used to scrutinize vehicle permit applications and would send us a report for publication stating who applied for a vehicle permit, if it was approved or denied, etc. Those days are long gone and now it is anyone's guess as to the logic or process behind approvals for new vehicles and fleets of new golf carts that seem to appear on the island almost daily.
Complaints of congested streets and unruly traffic are shared by locals and tourists alike. For the last year The Sun has received (and printed) countless letters from visitors who were less than impressed with our so-called island charm, stating all is ruined by our over-bearing, dangerous traffic. In turn we have shared many of these letters with both Mayor Guerrero and Area Representative Manuel Heredia Jr. Although we asked them for comment and hoped for a solution, neither have been forth coming.
When reflecting on Mayor Salazar's sentiments of making children and tourists feel safe on the streets, one has to wonder where that priority is now? Forget about rerouting traffic, delivery schedules, calling in specialists and making parking lots, the simple reality is that San Pedro is overrun with vehicles. Adding more by the container load is not going to help, it only exacerbates the problem. It needs to stop. Then we can address what the heck we are going to do with all of them.
For the sake of safety, the sanity of those of us who live with it on a daily basis, and for the visitors who it may ultimately drive away, we ask our town council for an immediate moratorium on all new permits/vehicles until a traffic plan can be put in place. We have to stop adding to the problem and this measure is a logical step to addressing the issue of traffic congestion on La Isla Bonita.
Follow The San Pedro Sun News on Twitter, become a fan on Facebook. Stay updated via RSS