Sir Barry Bowen Municipal Airport inaugurated
Friday, November 11th, 2016
The tourism and civil aviation industry of Belize saw a historic milestone on Friday, November 11th when the former Belize Municipal Airport was officially inaugurated as the new, 'Sir Barry Bowen Municipal Airport'. Under the leadership, planning, and execution of Minister of Tourism and Civil Aviation Honorable Manuel Heredia Jr., Belize Airports Authority (BAA), Social Security Board, and the Jesuit Society of Belize, the $17 million investment enhanced safety measures and renovated the airport into a world class, modernized facility.

The official ceremony was attended by the Late Sir Barry Bowen's widow Lady Dixie Bowen and family, Minister Heredia and his wife, Mayor Daniel Guerrero of San Pedro Town, Tropic Air President John Greif and family, board of directors and staff of BAA, Minister of Transport and National Emergency Management Organization (NEMO) Edmond Castro, partners in the aviation sector, representatives of the Jesuit Society of Belize, the Belize Police Department, elected officials, the media, and many other invited guests.
After a brief introduction by Master of Ceremonies Dale McDougall, the National Anthem was performed instrumentally by Carlos Perrote, followed by Arthur Hoy of Caribbe Air offering the benediction.
Severo Guerrero Jr., Chair of the BAA Board of Directors, established protocol and gave the welcome address. "The previous airport served its function, but it had many inconsistencies. One of those problems came with high tides and limited parking. The Belize Municipal Airport was not adequate to sustain the continuous development of the country. It served its purpose, but now has received a major upgrade," said Guerrero.

Giving a brief address was John Greif, President of Tropic Air. "Barry was larger than life, and was a gifted pilot. Aviation was one his passions, and this new airport would surely not exist if it wasn't for his vision and stewardship of the project. He was a fine businessman, but there was another side of him. It is my sincere hope that this airport focuses our attention, and allows history to remember him as I do," said Greif.
Lady Bowen presented a special address, where she spoke about the features of the new airport, and the passions of her late husband. "The transformation that we are witnessing here today is extraordinary. The Municipal airstrip was a short landing airstrip, and it is now one of the finest in the nation. For all of us, whether pilots or passengers, from now on, we can feel a new sense of pride and safety. As the wife of Sir Barry Bowen, I know he would be overjoyed if he was here today. For years, he dreamt of this reality and spent many hours envisioning a design, which was renamed in his honor," said Lady Bowen.
Michael Bowen, son of Sir Barry Bowen and CEO of Bowen & Bowen Group also addressed the gathering. "This was a dream of my father's for many years, and what has been done here was through the bilateral work of the private and public sector. My father cared for the safety of Belize, and tourists alike. He would be proud to see this project accomplished today," said Bowen.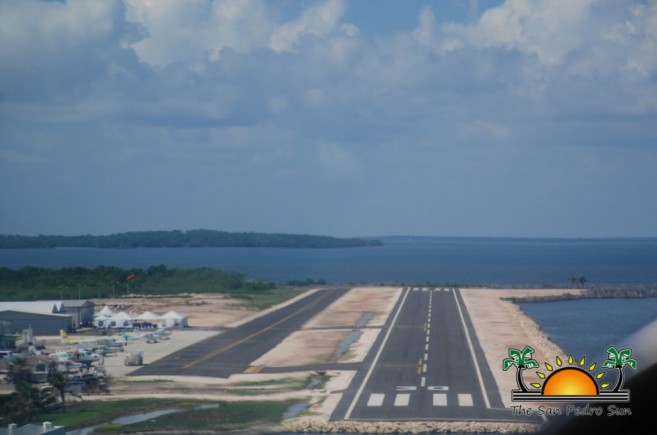 After a musical interlude, Minister Heredia gave his keynote address. "Today marks an important occasion in the development of the civil aviation sector. The government of Belize recognizes the need to align the development of our aviation facilities and services to meet local and international demands. In 2008, the Belize Municipal Airport remained a central point for our national aerodrome strategy. In 2011 to 2015, our aerodromes enhanced. As the minister in charge of tourism and civil aviation, I am delighted to share with you that we have exceeded this initial vision, and we have made this airport into one of the premiere domestic airports in this region. This, without a doubt, shows our government's capacity to build state of the art infrastructure, and we are confident that this project will be established as a benchmark for continued development works," said Minister Heredia.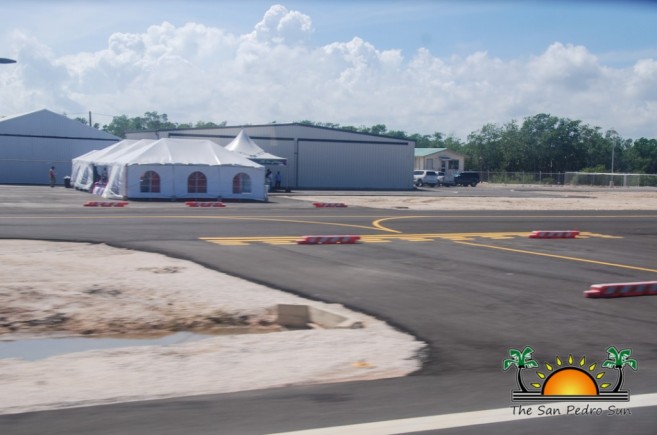 Minister Heredia also thanked the Jesuit Society of Belize society for their contribution, presenting a special award of appreciation to their representative. Nicholas Ruiz, General Manager of BAA, gave a heartfelt vote of thanks, and acknowledged all those persons and organizations that have played a key role in the success of this project.
The official ceremony culminated with the ribbon cutting of the new airport by Lady Bowen and Minister Heredia. The audience was able to tour the new airstrip, and after, an exclusive fly-over of Belize City allowed guests to experience landing at the new airstrip.

The refurbished airstrip includes an expanded runway: 2,900 feet long and 60 feet wide, with a parallel taxiway measuring 2,700 feet long and 60 feet wide. This also includes a new lighting system to accommodate the landing of aircrafts at night, which accommodates emergency flights. Proper signage and markings compliment the airstrip, and the airport is now compliant with local and international civil aviation standards. An apron with safety lines, parking and service road markings and 10 aircraft parking stalls are also among the newly added facilities.

More enhancements were made in this project, including the construction of an access road between Marion Jones Stadium and Saint John's College; and the paving of the road from Marine Parade near the stadium with its junction with Saint Matthew Street. The new parking lot can also accommodate up to 153 vehicles, and is equipped with a security booth along with perimeter fencing, an electronic barrier system, security lighting, and a modern surveillance system.

A drainage system is found throughout the entire airport with box drains, culverts along the apron with major outlets to the sea and pedestrian walkways. To complement the mangrove system, 2,600 feet of seashore protection was installed alongside the runway. The provisions have now become the main hub for national municipal flights, and it also accommodates for future expansion of the airport.

According to Mayor Guerrero, the new airport is a new asset to the tourism industry. "The municipal airport has been the connection to Ambergris Caye for many years. This is a huge accomplishment for both the government of Belize, and the people of Belize," said Mayor Guerrero.
With the mission statement as "sustainable managing all aerodromes consistent with international standards and best practices, and the vision statement as "efficiently provided safe aerodrome services"—the Sir Barry Bowen Municipal Airport is one of a kind. The unveiling of the Sir Barry Bowen Statue at the new airstrip is scheduled to take place in early January 2017.
Follow The San Pedro Sun News on Twitter, become a fan on Facebook. Stay updated via RSS