Southwest Airlines inaugurates Belize flight; tourism arrivals already increasing
Wednesday, October 21st, 2015
The highly anticipated arrival of Southwest Airlines' inaugural flight to Belize officially landed on October 15, 2015. Flying out of Hobby International, the flight was scheduled to arrive at 3PM; therefore, formal ceremonies took place at 2:40PM, before its historic landing on Belizean soil.

Inside the Philip Goldson International Airport, at the Southwest boarding area, host Karen Pike, Director of Marketing for BTB welcomed guests and speakers, including US Ambassador to Belize, Honorable Carlos Moreno, Jorge Espat – Managing Director of the Belize Airport Concession Co., Hon. Manuel Heredia Jr. – Minister of Tourism, Culture & Civil Aviation, and James Ashworth, Managing Director of Customer Support and Services of Southwest Airlines.

According to Ashworth, the Southwest effect is tremendous, causing a drop in air flight prices by 'as much as 30%' wherever they go. Belize is Southwest's 96th destination, and the second Central American country on their route map, joining Costa Rica. "We're proud to bring our low fares, no bag fees and no change fees to the customers traveling to and from Belize."

Espat highlighted that point, indicating that while arrivals clocked in a 2.5% increase last year (2014), the Southwest effect seems to have caused an increase of up to 27% in the few months since the announcement of their arrival alone. Heredia reiterated the point, "As North American travelers continue to dominate our market this partnership comes at an opportune time. Lower airfares, higher interconnectivity, and a relentless appeal for customer service excellence is what we welcome today to our shores. I am convinced that Southwest Airlines will certainly attract more travelers to our beautiful country. Already, the buzz is afoot. In September alone, Belize experienced a 19.9 percent increase in arrivals here at the PGIA, showing the continued strength of Belize's tourism equity and competitiveness."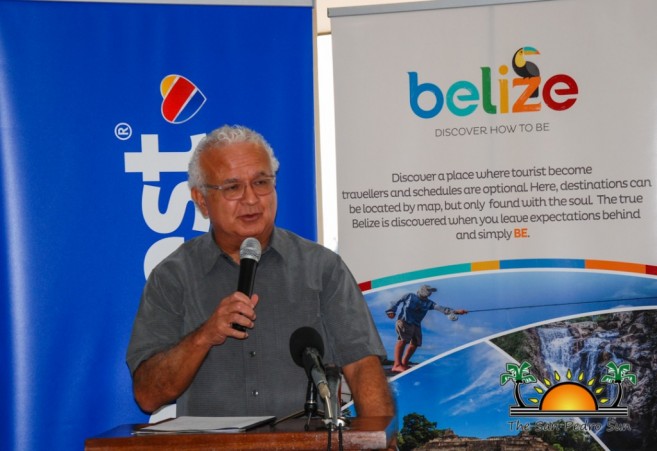 Right on scheduled time, the sound of Flight #827's arrival had everyone moving outside to witness the blue craft come down the runway. The plane glided in under the traditional water arch, and despite earlier rains, the warm Belizean sun peeked and spread its rays on the aircraft in welcome. From the cabin windows, the captains waved both the Belize and US flag, and below, the gathered crowd cheered.
Greeting the passengers and Southwest family were Ambassador Moreno, Minister Heredia and Belize Tourism Board's Karen Bevans, other stakeholders in the tourism and aviation industry, as well as the media.

On board the inaugural flight were three Belizean crew members: Flight attendant Dion Spain, Captain Lindley Reyes, and Jason Martinez.

Passengers came down the ramp excitedly waving their Belize flags, thrilled to be on the inaugural flight to our beautiful country. According to Southwest, the incoming flight had been full of fun, including trivia, giveaways and countless margaritas were consumed in celebration!
The San Pedro Sun had the opportunity to experience Southwest Airlines' new service as well, taking the return flight #1013 to Houston, Texas. Associate Editor Mary Gonzalez was in the gateway city for three nights, spreading the warm Belize vibe. Southwest Airlines held a day of fun and information at Discovery Green Park in downtown Houston, and as early as 9:30AM, eager people lined up hoping to be in the first 100 to win $100 Southwest gift certificates. Fun and friendly staff members were giving out bags and sunglasses, while at a photo booth, visitors lined up to get their pictures taken with any of the many backgrounds available, including Belize! There were games on the lawn, and models wore diving gear to entice future divers to explore the waters of the Caribbean and Mexico. Later on in the evening, the movie Up was featured, with hot delicious popcorn and much family fun.

By adding an international route at the William P. Hobby Airport, Southwest is creating more options for travelers out of the gateway city of Houston, and even throughout other states in the US. The return trip from Houston was a packed one, with very few Belizeans traveling home, and a lot of tourists heading to various parts of Belize! Thank you Southwest, and welcome to Belize!
Follow The San Pedro Sun News on Twitter, become a fan on Facebook. Stay updated via RSS