BTB Awards 9 Scholarships
Monday, November 16th, 2015
BELIZE CITY, Belize, November 16, 2015 – On Friday, November 13, the Belize Tourism Board (BTB)
awarded nine (9) students with scholarships for Tourism Programs. The scholarships are as follows: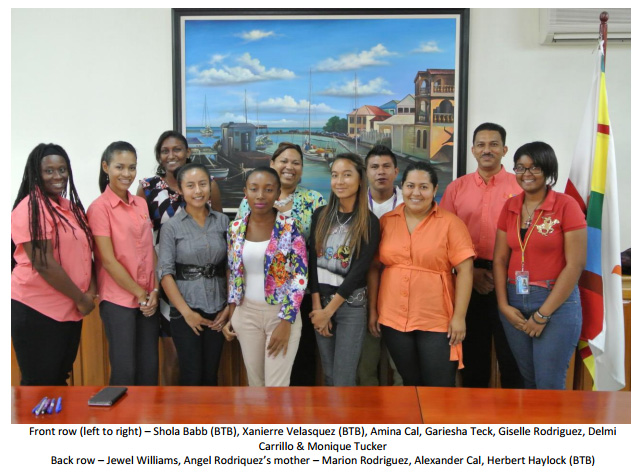  Three (3) two-years tuition scholarships for an Associates in Tourism at one of the Junior Colleges
in Belize offering a Tourism Program, awarded to
1. Giselle Rodriguez
2. Amina Cal
3. Monique Tucker
 Three (3) two-years tuition scholarships for a Bachelor Degree in Tourism Management at the
University of Belize, awarded to
1. Jewel Williams
2. Alexander Cal
3. Gariesha Teck
 One (1) "Jean Shaw Tourism Scholarship," which is a full scholarship covering two-years for a
Bachelor Degree in Tourism Management at the University of Belize
1. Delmi Carillo
The Jean Shaw Tourism Scholarship was established in memory of the late Jean Ursilla Shaw, a
renowned female, tourism pioneer, who played an integral part in the development of Belize's
tourism industry in her lifetime. The scholarship is to support the development of qualified Belizean
females pursuing a career in tourism.
 Two (2) $10,000 scholarships for a Culinary Program, awarded to
1. Natalia Silva
2. Angel Rodriguez
The handing over of the scholarships was held at the BTB office, where the nine successful candidates
were presented with their official packages for the scholarships.
The recipients were selected based on a score sheet, which measured various factors such as
grades/GPA, work and community service experience, essay describing their career goals/aspirations and
their achievements/awards. Those with the highest scores were then reviewed thoroughly and the top
candidates were selected.
Director of Tourism, Karen Bevans, commented, "These scholarships are provided to build capacity in the
rapidly growing Tourism Industry, and to offer our youths the opportunity to aim higher and dream bigger in charting their career path. Tourism is one of Belize's largest Industries and the demand for trained human resources is growing. The BTB, by way of these scholarships, is doing its part to expand the human resource pool in the Industry and ensure that Belizeans are prepared to take on more roles as needed to continue to increase tourism in Belize".
For more information on the scholarships, please contact Xanierre Velasquez at [email protected].
Follow The San Pedro Sun News on Twitter, become a fan on Facebook. Stay updated via RSS