Third Quarter Tourist Arrivals register increase
Wednesday, October 21st, 2015
The Belize Tourism Board (BTB) has released the tourism arrivals for the third quarter of 2015. According to the statistics reported by BTB, Belize experienced a significant 6.9% increase in overnight arrivals from July to September 2015, when compared to the same period in 2014. This increase in overnight arrivals in the third quarter comes after a 0.8% decrease in the first seven months of 2015 (compared to 2014).


BTB reported that the largest increase in overnight arrivals was registered in September 2015, as there was a 19.3% jump compared to the same time in 2014. "September saw an astounding increase; the highest increase ever recorded for the month of September, going as far back as 2006. There were 14,242 overnight visitors in September 2015, which is an increase of 2,299 compared to September 2014," stated BTB. Every month since June 2015 has registered increased arrivals, when compared to the same months in 2014.
With 74.7% of total overnight arrivals entering the country through airways, the Philip Goldson International Airport (PGIA) is the main entry port to the Belize. The arrival increase can also be accounted to the installation of new flight routes. "We can conclude that visitors from the United States accounted for the bulk of this increase in airport arrivals for September, as arrivals for Americans increased by 28.55%. Overall, Americans continue to be our main market, making up close to 65% of arrivals," says BTB. September 2015 alone saw an increase of approximately 20% through PGIA.
In the first nine months of 2015, there has also been a major 54.1 %increase in South American visitors and 25.1% in Asian visitors. "We anticipate continued growth in the South American and Asian markets, with new marketing strategies that have been implemented in these areas, such as Trade Shows, Road Shows, service via Copa Airlines and other marketing partnerships," said BTB. Some of the latest direct flight destinations to Belize include Los Angeles, Atlanta, Houston, Chicago, Miami and Dallas in the US, and Panama in Central America.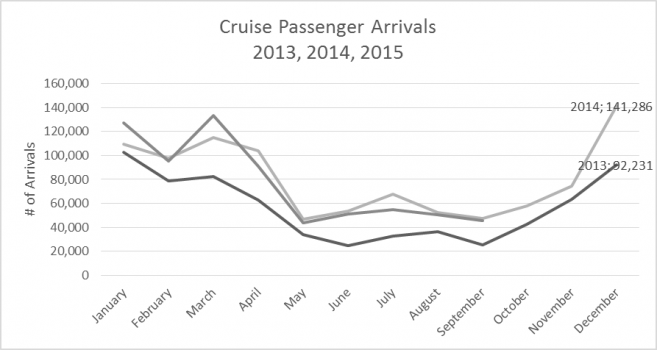 In regards to cruise arrivals, the first nine months of 2015 showed a decrease of 0.3% when compared to 2014, but a significant increase of 44.42% when compared to 2013. BTB maintains that cruise arrivals are expected to remain stable or increase in the last three months of the year.
For more information about tourist arrivals statistics, please contact the Belize Tourism Board at 227-2420.
Follow The San Pedro Sun News on Twitter, become a fan on Facebook. Stay updated via RSS