First 7 months of 2015 show no major improvement in tourism statistics
Wednesday, August 26th, 2015
Now in the eight month of the year, Belize is starting to see a rise in tourism arrivals after having a slow start. From January to May 2015, with an exception on March 2015, overnight arrivals for each month register a decrease when compared to 2014 statistics. But the Belize Tourism Board (BTB) has indicated that the figures are beginning to show an improvement as overnight arrivals have increase in both June and July of 2015.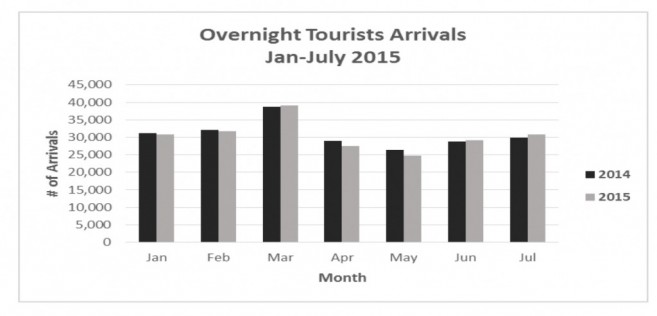 According to the number overnight arrivals are showing a 1.6% increase in June, and 3% increase in July when compared to the overnight arrivals of 2014. Overall there is still a 0.8% decrease in overnight arrivals for the first seven months of 2015 when compared to the first seven months of 2014. "The 0.8% drop in cumulative arrivals through the first seven months of 2015, was partially attributed to the consistent decreases in the number of overnight visitors from the Canadian market. Statistical indicators have pointed to Canada's economy going through a downturn," stated BTB in a press release. March was the only other month that registered an increase with 39,136 overnight arrivals in 2015 as compared to the 38,719 of March 2014. March was also the month that saw the most overnight visitors in the first seven months of the year. The lowest number of overnight arrivals was recorded in May 2015 at 24,707.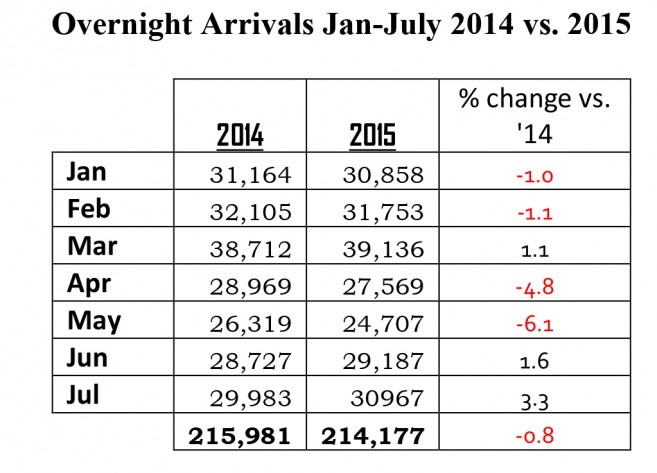 But while overnight arrivals decreased, cruise arrivals remained stable and even registered a slight overall increase pf 0.2% in the first seven months of the year. Both January and March 2015 saw increase of 16.6% and 15.8%, respectively, in cruise arrivals when compared the number from January and March of 2014. The largest figure in cruise arrivals was in March with 133,482. All other months (February, April, May, June and July) registered a decrease when compared to 2014.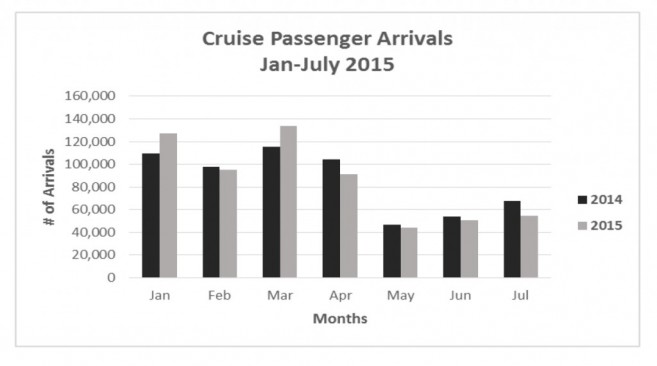 "February 2015 saw a slight decrease of 2.7% which resulted from the cancellation of two ships due to adverse weather conditions. It is important to note that 2014 was an outlier year in regards to summer months in the cruise industry, as deployments from other regions were redirected to Belize increasing the booking calls. The bookings for 2015 have maintained as scheduled and showed an increase of 0.2% cumulative," stated BTB.

BTB projects that overnight arrivals will see an increase in the final months of 2015. BTB is currently diversifying its marketing, working on marketing initiatives into South America and Europe.
Follow The San Pedro Sun News on Twitter, become a fan on Facebook. Stay updated via RSS