Westjet lands in Belize
Wednesday, November 2nd, 2016
Canada's second largest airline, Westjet Airlines, inaugurated its direct service from Toronto to Belize on Saturday morning, October 30. Minister of Tourism and Civil Aviation Hon. Manuel Heredia Jr and his wife, along with Belize Tourism Board (BTB) director Karen Bevans were the first passengers to disembark from Westjet's aboard the Boeing 737-700 after it had landed at the Philip Goldson International Airport.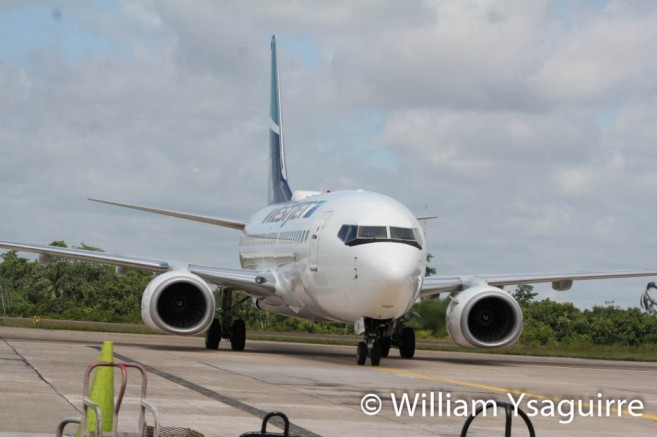 Westjet's representative Linda Dawe, who is also the regional manager for International Airports Caribbean, said the airline was proud to add Belize to its list of destinations and that Westjet would be flying into Belize twice a week from Pearson Airport in Toronto. She said the new service meant that passengers could depart Canada in the morning and be checking into their hotel in Belize by lunchtime, and enjoying warm Belizean sunshine on the beach by early afternoon. She said she was happy that Westjet would be bringing more visitors to Belize, to enjoy our hotels and fine food in our restaurants, and their business would be providing more jobs for Belizeans.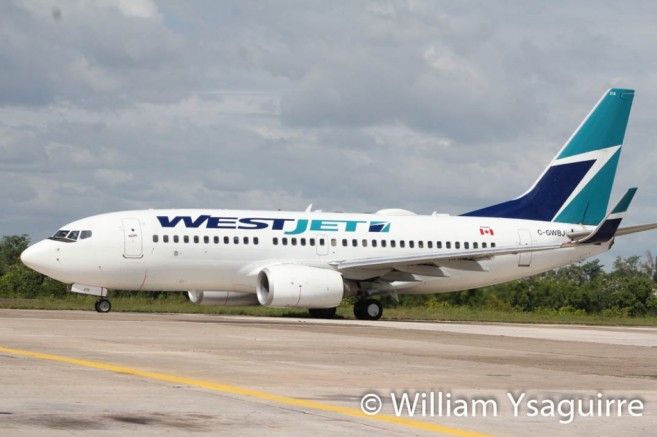 Minister Heredia welcomed Westjet to Belize on behalf of the government and people of Belize, saying he hoped the new service would bring about an increase in incoming and outbound visitors between Canada and Belize, and he looked forward to a long and prosperous partnership with Westjet. He said this first flight was realization of a dream and the culmination of a four-year effort on his part to get a direct service from Canada to Belize, and that he and the BTB had also courted Air Canada in the hopes of accomplishing this objective.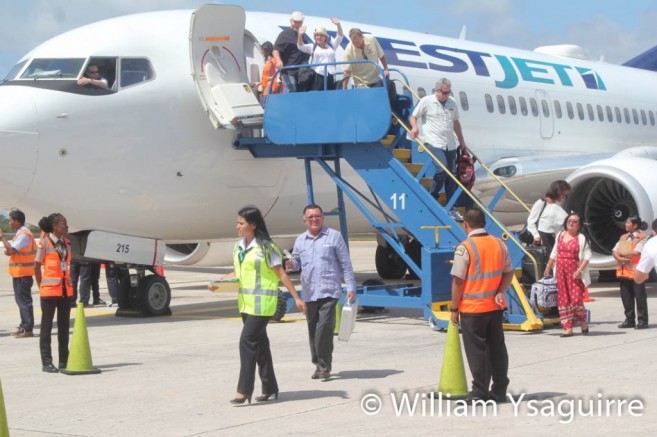 This is the third new airline partner, after COPA and Southwest, to introduce service to Belize in recent months, he noted in his official address, and Westjet's arrival was important; as Canada is the second largest market from which visitors to Belize originate. He also noted happily that many Canadian visitors to Belize have returned to take advantage of our Retired Persons Incentives Program, and to enjoy Belize's warm hospitality, joining the cadre of many Canadian nationals who call Belize their second home.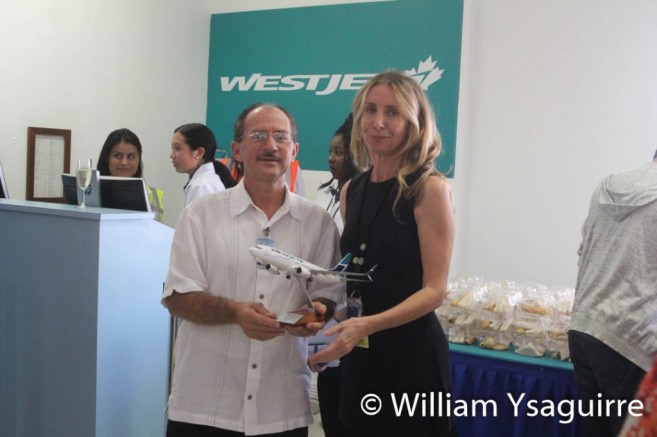 The long-term strategy of Belize National Sustainable Tourism Master plan calls for diversification, he noted, even though the United States remains Belize tourism's strongest market. For this reason, he considered it well worth the effort to cultivate this invaluable relationship with Westjet, to bring more North American visitors to our shores. The flip side of the new development was the greater ease of connectivity for air travel which it now offered to Belizean travellers.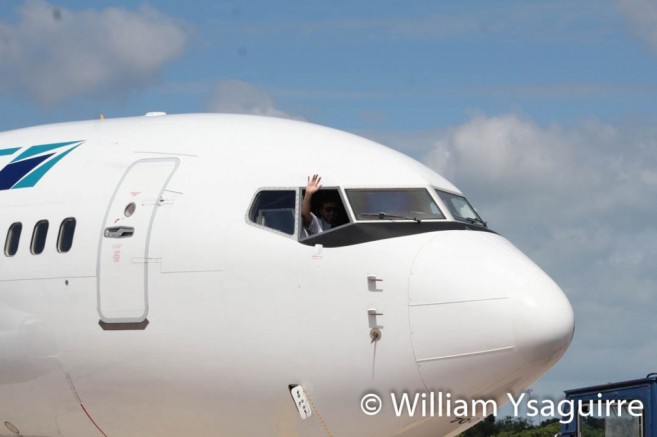 He also thanked his team at the Ministry, the BTB, the Department of Civil Aviation, the Belize Airport Concessions Company and all who had worked to make this happy day possible.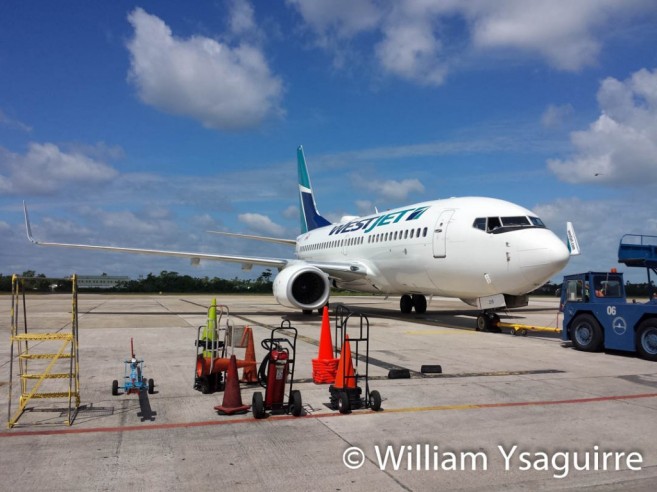 Chief Executive Officer Jorge Espat of the Belize Airport Concessions Company also welcomed the new arrivals, and said he hoped with time Westjet would expand its service to daily flights, bringing even more tourism customers to Belize. Linda Dawe acknowledged Espat's welcome by presenting him with a model of a Westjet airliner.
The ceremony concluded with a ribbon-cutting at the departure gate, and a champagne toast for a long and prosperous partnership.
Follow The San Pedro Sun News on Twitter, become a fan on Facebook. Stay updated via RSS