SPTC and CARILED holds consultation to draft local economic profile of San Pedro
Saturday, November 12th, 2016
The San Pedro Town Council (SPTC), in partnership with the Caribbean Local Economic Development (CARILED) Project in Belize, hosted a two-day consultation on Wednesday, November 9th and Thursday, November 10th to discuss the drafting of the local economic strategic plan for San Pedro Town.
On November 9th, the consultation took place at the San Pedro Town Council's Conference Room, with CARILED Local Resource Consultant Keisha Rodriguez, CARILED Consultant from Canada, Chris Fields, Jorge Aldana of the SPTC, along with various business stakeholders in attendance.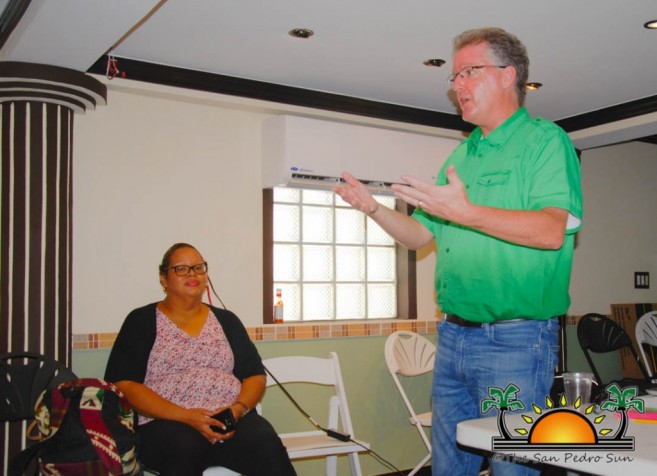 Fields led the presentation, and identified the ultimate vision of San Pedro Town. He explained that local economic development is a process by which public sector, business and civil society work collectively to create better conditions for economic growth and employment generation. Its purpose is also to build up the economic capacity of a local area to improve its economic future and the quality for the island.
According to Jorge Aldana of the SPTC, San Pedro is one of five municipalities that is benefiting from CARILED, and is under the second phase-draft of the plan of action. "This is our island, and we know what's best for us. What better way than those who are from the island, and work on the island, to be a part of the decision making process?" said Aldana.
After the brief presentation, three activities took place within two groups. CARILED conducted these activities to gain valuable feedback on what should be prioritized in San Pedro. For instance, group participants had to choose priorities that need emphasis in San Pedro, and offer approaches and solutions. Another activity addressed the key challenges the island faces such as: infrastructure, business finance, United States Election results, lack of educational institutions, municipal funding, climate change, and more.
A poll was then conducted to see what could enhance the tourism product of San Pedro. From recycling facilities, beach reclamation, affordable housing, fixing roads, to having a big public hospital, the group members had the option to choose two significant areas that should be prioritized. As the meeting was dismissed, all of the ideas were collected, and processed by CARILED to use the following day.
On November 10th, a public consultation was held at the Lions Den at 7PM to discuss the draft visualization of the local economic development strategy. All of the ideas from the previous consultation were placed into a PowerPoint presentation, and addressed to the crowd. Afterwards, Rodriguez created and explained a framework of priorities that locals have accumulated. In the end, participants had another opportunity to provide their ideas and input that would help polish up the strategic plan.
Rodriguez said that perspectives from locals was very important, and that the official local economic profile strategic plan for San Pedro Town should be finalized by early December 2016.
Follow The San Pedro Sun News on Twitter, become a fan on Facebook. Stay updated via RSS