Island residents to hold fundraiser for fire victims
Saturday, November 18th, 2017
After Carla Velasquez' family lost their home to a fire, a group of kindhearted island residents is organizing a fundraising event on Friday, November 24th to raise much-needed funds to help them. The event is scheduled to start at 7PM at the Central Park, and it will include a bake sale, with free kids and adult movies. All proceeds will go towards the reconstruction of Velasquez' home.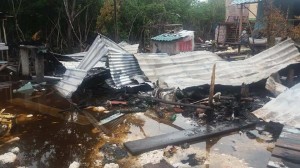 Organizers Dalia Alamilla and Sarah Bol from Starfish Camp are looking forward to everyone's support on the day of the activity, and they invite the entire community to attend this worthy cause. They are still accepting donations for the fundraising in the form of baked goods, cheese dip, sodas, and even monetary contributions. Anyone interested can reach Lara Goldman, one of the volunteers helping with the event at 670-5272.
Velasquez' family lost their home in an unexplained fire in mid -October of this year, in northern Ambergris Caye. The family was not at home when the incident occurred, and has since been struggling to get back on their feet. According to a report made to the police on October 24th, it is believed that the incident took place sometime between the 15th and 18th of October. Velasquez and her family left the home on October 15th due to the torrential rains that were causing flooding in the area. Three days later, when her common-law husband Emir Recinos checked on the house, he found it destroyed by fire. The family immediately suspected that it was deliberately set on fire since the house was not connected to the electricity grid.
Velasquez has a daughter who attends San Pedro High School and an autistic son who goes to Ambergris Caye Elementary School. She says that the community has been very kind. "People have helped us with our basic needs, like household items and a place to stay. Now we need construction materials to start building our home," she said. This will be the second fundraiser held for the family. On November 2nd a dollar drive was held by Reef Radio, which along with other monetary donations, yielding $4,000.
In the meantime, if anyone would like to make a donation directly to the Velasquez family, they can be reached at 601-0772.
Follow The San Pedro Sun News on Twitter, become a fan on Facebook. Stay updated via RSS