Residents report squatter south of town; builder says Minister Heredia gave authorization
Saturday, August 25th, 2018
Residents along the Seagrape Drive south of San Pedro Town are complaining after an alleged unauthorized structure is under construction in their neighborhood. They say that the house is erected on a road that leads to other houses in the area and believe it does not meet all necessary building requirements. A visit to the area revealed that the house belongs to businesswoman Felisa Aguirres, whose house burned on July 1st near the San Marcos Area. She admitted that even though she did not receive approval from The San Pedro Town Council (SPTC), she has full authorization and support from Area Representative Honourable Manuel Heredia Jr., who assisted her after she ended up homeless.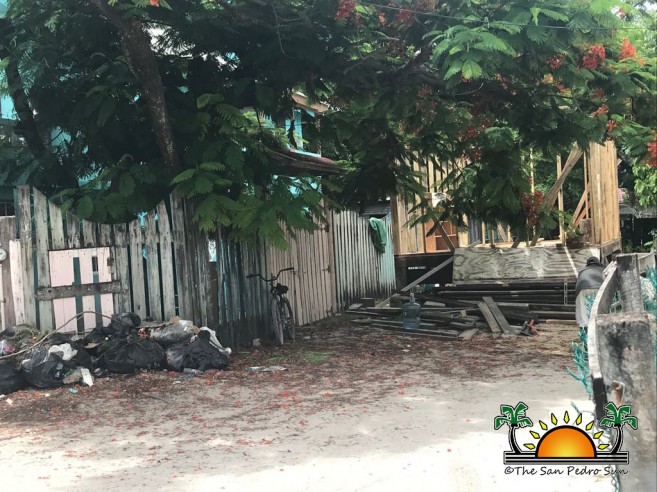 According to the Building Unit at the SPTC, before a house is constructed, the area must be surveyed before a permit can be issued. The construction must meet certain requirements, like a building permit, an inspection from the fire department to evaluate any risks of fire, and even health issues are considered in the process of approval. However, it is alleged that Aguirres did not notify the SPTC, and just went ahead with the building.
Aguirres told The San Pedro Sun that she lost everything when the house she rented was gutted by a fire in July. She said that she lived there with her small grandson and was going to build back her home. However, her landlord doubled her rent, and she had to move out. Aguirres said that she approached Heredia, who helped her with a piece of land. She then began sourcing materials to finish her home. She understands that the local authorities are questioning her building, but she stated that Heredia supports her. Aguirres produced a note from Heredia, which asks anyone to assist her in the construction of her home on the said piece of land he has recommended for her.
Minister Heredia stated that he is simply doing the humanitarian thing after Aguirres' loss. He believes that when island residents go through what she went, authorities need to be conscious of the situation and try to assist as best as they can. According to him, the area where Aguirres' house will be is not on an active road anymore and does not cause any hindrance to anyone. Heredia added that he will always help his people whenever he can.
Aguirres was out of the country when her house was destroyed in a midnight blaze on Sunday, July 1st. All her belongings, including her merchandise (clothes and jewelry), burned down. According to neighbors, the fire started minutes to midnight. They quickly sounded the alarm to others in the neighborhood. When firefighters arrived, the flames had already engulfed the structure threatening to spread to nearby bushes and other homes. Thanks to the rapid work of the firefighters and volunteers, the inferno was extinguished, however, nothing inside the house could be salvaged.
A cause of the fire is yet to be issued by the fire department, but it is believed that it was caused by an electric short circuit.
Follow The San Pedro Sun News on Twitter, become a fan on Facebook. Stay updated via RSS